Wynonna Judd Plans To Continue Nationwide Tour With Star-Studded Lineup
Tanya Tucker is slated to hit the road with Wynonna Judd in 2023.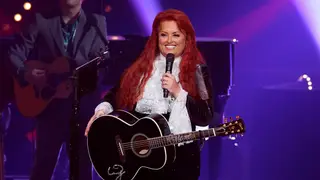 Christmas came early this year, as country music icon Wynonna Judd extended her nationwide tour and added one more legend to the lineup – Tanya Tucker. 
The "Love Can Build A Bridge" singer announced Monday, Dec. 19, that she will continue celebrating her late mother and bandmate, Naomi Judd on the road with a string of special guests in 2023. 
"I am so humbled by the support each of these artists have offered," wrote Wynonna on social media. "Cannot think of a better team to help me honor this music," she added. 
The additional 15 stops come on the heels of a successful 2022 run. The singer-songwriter initially confirmed her last tour in early May at her mother's public memorial service presented by CMT and Sandbox Life. While honoring Naomi's life at Nashville's legendary Ryman Auditorium, Wynonna promised the country community that she would keep performing and persevere forward. 
"I will continue to sing," said Wynonna with confidence. "I made a decision, and I decided to share it on national television. After a lot of thought, I am gonna have to honor her and do this tour because that is what you would want," she added pointing to the audience. 
The Judds initially revealed their triumphant return to the road in early April, right before they made their last appearance together at the CMT Music Awards. The scheduled mother-daughter tour would have marked their first trek together in over a decade. Naomi unexpectedly passed away on Saturday, April 30, after losing her battle to mental illness. 
The female-heavy concert will kick off again on January 26 in Hershey, PA, and will wrap in Hollywood, Florida, on February 25. Each act will appear for three shows only. The additional dates have already caused a joyous uproar, as country music fans flocked to the comments to express their excitement. 
"You're going to kill this extension, Queen! So so proud of you all," shared a devoted listener. "Can NOT wait to see you perform again!❤️❤️," said a recent ticket-holder.  
The last leg wrapped at The Murphy Center at  MTSU in Murfreesboro, TN. The "history-making" live show was pre-recorded and will air in March 2023. 
"In my 39 years of performing, this tour has truly been one of my favorite experiences ever," she recently shared. "You all have been such a gift during my time of grieving and honoring my mother in song. Getting to experience all the different generations of Judds fans each night (with your vintage tees, homemade signs, flashlights in the air, singing every word to every song) has been other-worldly. I look so forward to continuing this celebration of the music that has changed my life forever 💙." 
The Judds: The Final Tour with Special Guests
JAN 26 HERSHEY, PA with Ashley McBryde
JAN 28 BRIDGEPORT, CT with Ashley McBryde
JAN 29 WORCESTER, MA with Ashley McBryde
FEB 02 TULSA, OK with Kelsea Ballerini
FEB 03 KANSAS CITY, MO with Kelsea Ballerini
FEB 04 ST. LOUIS, MO with Kelsea Ballerini
FEB O9 OMAHA, NE with Little Big Town
FEB 10 MOLINE, IL with Little Big Town
FEB 11 DAYTON, OH with Little Big Town
FEB 16 GREENVILLE, SC with Tanya Tucker
FEB 17 FAIRFAX, VA with Tanya Tucker
FEB 18 CHARLESTON, WV with Tanya Tucker
FEB 23 SAVANNAH, GA with Brandi Carlile
FEB 24 TAMPA, FL with Brandi Carlile
FEB 25 HOLLYWOOD, FL with Brandi Carlile