Dolly Parton Announces Series on Apple Radio
"I've lived a life of many colors, and I enjoyed the chance to sit down with Kelleigh Bannen to discuss different areas of my life and career," Dolly Parton said. " I hope the fans will have as much fun listening as we had recording this!"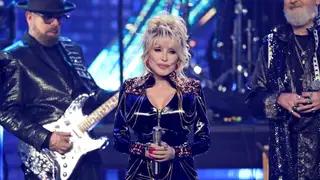 Parton revealed Wednesday the creation of What Would Dolly Do? Radio, a four-part radio series airing on Apple Music's global live-streaming radio station Apple Music 1.
"I've lived a life of many colors, and I enjoyed the chance to sit down with Kelleigh Bannen to discuss different areas of my life and career," Parton said in a statement. " I hope the fans will have as much fun listening as we had recording this!"
The show will air weekly leading up to the release of Parton's highly-anticipated rock album "Rockstar" on Nov. 17. The Sevier County, Tennessee, native shares her beloved and often hysterical stories, sharp wit and wisdom on the show.
In the first episode, Parton takes listeners Behind The Seams, which is also the title of her book that will be out October 17. She and Bannen discuss her look and legacy and delve into the faucets that work together to mold Parton into the international icon she is . Parton talks business in episode 2, toughing on stage, screen, and more. The third episode is dedicated to her philanthropy.  Parton talks about entering her rock era on the last episode.
What Would Dolly Do? Radio will air weekly on Wednesdays on Apple Music 1 at 5pm PT / 7pm CT / 8pm ET, beginning October 25. Tune in and listen live for free or anytime on-demand with an Apple Music subscription at apple.co/am-1
What Would Dolly Do? Radio will also be available on Apple Podcasts. Apple Music subscribers can follow the show on Apple Podcasts to automatically download and get notified of new episodes when they're available on-demand.
Parton recently debuted her video on CMT for her tender and poignant cover of 4 Non Blondes' hit "What's Up?" featuring the band's singer Linda Perry.
"First of all, I love Linda Perry," Parton said in a press statement. "Second of all, I love this song written by Linda. Third of all, I love being a part of this video to try to make people think about what's going on in this world today. Shout out to the little children that helped with the video! If our children don't make it, then what will? Again, I ask, 'What's Up?' Enjoy."
Perry wrote the original version of "What's Up?" Steve Summers directed the video and NOZ Entertainment produced the clip.
The women filmed the thoughtful video footage at Eakin Elementary School in downtown Nashville on one the hottest days of the year.
"How is one supposed to react when the greatest and most prolific songwriter in the world wants to cover a song YOU wrote?" Perry said in a statement. "Her version of 'What's Up?' is so good. Her spin on it made me feel like it was her song. No surprise there. Being on set making the video was a comfortable, easy experience. The vibe on set was chill, and Dolly and I got to catch up and laugh a lot. I could go on and on, obviously, I'm a fan!"
Below are additional airdates for MTV & CMT programming featuring Dolly and her upcoming Rockstar album:
MTV FRESH OUT LIVE DOLLY WHAT'S UP PREMIERE
*As part of the "Mixible" channel on Paramount +
MTV FRESH OUT LIVE DOLLY ROCKSTAR
Airs: Friday 11/17 at 5pm ET on MTV
DOLLY PARTON: I WANT MY MTV
Premiere 19:00 on 17th November
Premiere 19:45 on 17th November
Premiere on 17th November
Prem time 20:00 ET on 17th November
Prem time 21:30 CET on 17th November
Prem time tbc on MTV Hits on 21st November
Friday 17th November – 3pm – 6pm
DOLLY PARTON: I WANT MY MTV DIGITAL EXCERPT
Fans can pre-order an array of Rockstar vinyl and CD box sets via Parton's website.