CMT Artists Of The Year: Carly Pearce Releases Reflective Music Video For "What He Didn't Do"
Carly Pearce will be honored at CMT Artists of The Year on Friday, Oct. 14, at 9P/8C on CMT.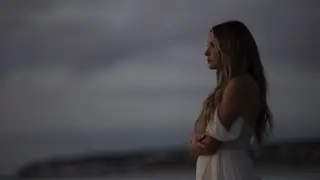 "When life gives you lemons, make lemonade" is a cliché motto that Carly Pearce understands all too well. Following a string of misfortune – the CMT Artists of The Year honoree released "29: Written In Stone," a transparent album that brought her country music career to new heights.
The 15-song collection chronicles how Pearce coped with losing long-time collaborator Busbee and her divorce from country singer-songwriter Michael Ray. Her current single, "What He Didn't Do," is one of many diary-like anthems that embodies Pearce's strength and pure storytelling soul.
Towards the end of 2020, Pearce penned "What He Didn't Do" alongside Ashley Gorley and Emily Shackleton. Together the group of fierce songwriters placed their heads together to cultivate a self-worth track about a resilient individual walking away from a toxic relationship. The Shane McAnally and Josh Osborne-produced ballad tugs at heartstrings as Pearce reflects on everything that her ex-lover didn't do.
"What He Didn't Do" follows her No. 1, "Never Wanted to Be That Girl" with Ashley McBryde. The breakup ballad became the most added song at country radio and was recently certified GOLD by the RIAA. To bring the relatable storyline to life, the Grand Ole Opry member turned to video producer Ryan Byrd and director Alexa Campbell.
The state-of-the-art music video not only captures Pearce's raw perspective but serves as the end of a significant chapter and previews where the hitmaker is heading next. The clip begins with Pearce on a picturesque beach in a wedding dress. As the robust vocalist recalls the emotionally-draining relationship, she leaves footprints in the dark sand – representing the mark he left on her heart.
"I'm already halfway ovеr him, and I ain't taking time to turn around | And I'm a take the high road, even though we both know | I could run him out of this town." she belts while dipping her toes in the water. "That's just dirty laundry, I don't need to wear the truth |  So I ain't gonna tell you everything he did | But I'll tell you what he didn't do."
Following the explosive chorus and before the last verse, Pearce plunges into the depths of the sea. As her white gown wraps around her legs, the reigning CMA and ACM Female Vocalist of the Year holds her breath under the water. When Pearce's head resurfaces above the frigid whitecaps, she looks rejuvenated.
Pearce told CMT that the attention-grabbing scene signifies a new start.
"For me, I wanted to show the rebirth of where I am now in my life," she explained. "This is the last single on "29". It kind of feels like a wash of what has happened to me and I came out on the other side."
When fans watch the moving music video, Pearce hopes that they gain new profound confidence to approach difficult situations "head on" and learn from their experiences. 
The country mainstay shared that she watched the final edit with her mother and was hit with a wave of emotions.
"I watched it with my mom," said Pearce. "She cried because she could so clearly see the imagery of what we were trying to do."
"This is one of those things that, over the last five years or however long I've watched my peers getting recognition, I wanted. I wanted to have a year that mattered so much that they felt like I was worthy of getting that. For it to be at the end of the '29' era, it feels extra special to me," Pearce told CMT. "It gives me great joy that all these things have happened to me. That people feel like the music that I have made in the last 12 months of my life is deserving of something like this." 
Pearce continued to mention that she would like to be "present" during the star-studded affair and embrace every moment.
"I have to be in that moment to really soak it in. If you ask anybody, you're constantly thinking of what's next," she says ahead of the ceremony. "You're constantly thinking, 'I have to hold it, I have to keep it, I have to make it bigger.' I just want to sit in that evening and understand what the last 12 months have been for me."