LISTEN: Ashley McBryde Shares Acoustic "Christmas Ditty" From Hotel Room
Ashley McBryde spreads holiday cheer with a heartwarming cover of "Have Yourself A Merry Little Christmas."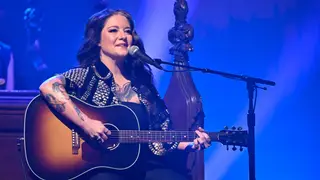 GRAMMY-nominated singer-songwriter Ashley McBryde is officially in Christmas mode. 
In the wee hours of the morning, the hitmaker jumped on TikTok to share a cover of "Have Yourself A Merry Little Christmas." Without a stitch of makeup on and in plaid pajamas, McBryde grabbed her acoustic guitar and began singing the timeless track from a hotel room. 
"Singing a Christmas song super quiet in a hotel…like ya do," McBryde wrote alongside the video. "Here's a Christmas ditty from a hotel room, in pajamas. When I should've been in bed." 
McBryde placed her signature twist on the wildly popular holiday hymn, by allowing her Arkansas inflection to shine through. While fiddling with the guitar strings ­- she effortlessly lures listeners in with her soulful sound that instantly makes fans feel like they are in the same room.  
"Have yourself a merry little Christmas | Make the Yule-tide gay | From now on, our troubles will be miles away | Here we are as in olden days | Happy golden days of yore | Faithful friends who are dear to us | Gather near to us once more," she sings. "Through the years, we all will be together | If the Lord allows | Hang a shining star upon the highest bough | And have yourself a merry little Christmas now." 
Although she sang the recognizable chorus verbatim, she pointed out that they were not the original lyrics and would follow up on the song's origin story at a later time. 
"Did you know that's not the original lyrics to that song?" she asked her followers. "More on that later," she added. 
World-renowned artist Hugh Martin and Ralph Blane wrote "Have Yourself A Merry Little Christmas" for actress Judy Garland to sing in the 1944 film "Meet Me In St. Louis." The initial lyrics gave the happy-go-lucky tune a more melancholy touch. 
The depressing hook read, "Have yourself a merry little Christmas | It may be your last | Next year we may all be living in the past." 
Hollywood executives and director Vincente Minnelli first hesitated to incorporate the original song and demanded a re-write. To date, there are two versions – one that Garland sang in the old-school movie and Frank Sinatra's master, which lives on his 1948 third studio album.  
In less than 24 hours, McBryde's rendition went viral and raked in 46.1K views on TikTok alone. While many praised her remarkable delivery, others egged the songstress on to drop a Christmas collection. 
"Your voice touches my heart❤️," said a follower. "Christmas Album next, please!" requested a fan. "Merry Christmas! So many milestones to celebrate this year," another one added. 
The impromptu cover comes on the heels of her Grand Ole Opry induction, where she became an official member of the sacred institution. Country singer Terri Clark helped initiate the platinum-selling artist right after they joined forces on "Girl Goin' Nowhere," the track that placed McBryde on the map back in 2017. 
"This moment is the biggest of my life. And if it's your first time to be at the Opry, this is what it feels like every time you are here," she shared within the circle in early December. "It looks like it's made of brick and mortar, but it is pure, pure love. That is what you are experiencing. Thank you. I know what this means. I know what my responsibilities are, and I take this very seriously. And God Bless country music." 
The powerhouse also recently released her critically acclaimed album "Lindeville." The John Osborne-produced collection features a handful of collaborations featuring Brothers Osborne, Brandy Clark, Aaron Raitiere, Pillbox Patti, Caylee Hammack, and Benjy Davis. 
McBryde is slated to bring her talents and biggest hits out on the road with Wynonna Judd in 2023. Before making history with the country legend, she will escape to paradise to participate in Luke Bryan's Crash My Playa on Jan. 21.