HARDY, Lainey Wilson Reveal Domestic Violence Duet
"Wait In the Truck" will be available Friday.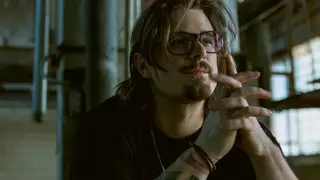 Country music has a long history with domestic violence songs and Lainey Wilson and HARDY are joining the fray with their new collaboration "Wait in the Truck" that will be available Friday.
Wilson shared a clip of the song's graphic and intense video on her social media Monday, and HARDY wrote he is "so excited" to finally announce his next single.
"Thanks to everyone involved," he said. "This is a special one."
"Wait in the Truck" marries two of country music's brightest stars. Wilson won New Female Artist of the Year at the 2022 ACM Awards and HARDY was named Songwriter of the Year.
The singers take turns on the back and forth song that sees HARDY seeking justice for the woman he just met.
Lyrics include: I don't know if he's angel Cause angels don't do what he did He was hell bent to find the man behind All the whiskey scars I hid I never thought my day of justice Would come from a judge under his seat But I knew right then I'd never get hit again when he said to me Wait in the truck Just wait in the truck
In addition, HARDY announced his first headlining tour today:  Wall to Wall Tour. The seasoned songwriter turned high-energy performer will embark on his nationwide run on December 1 in Athens, Georgia. HARDY called in Nashville newcomer Jackson Dean to serve as direct support for the entirety of the winter run. Meanwhile, platinum-selling rock band Puddle of Mudd will appear for one night only in Columbia, South Carolina.
"I'm stoked to take this Wall to Wall Tour on the road," shared the crossover artist. "We're hitting some cities and venues that I absolutely love; I'm happy to have Jackson out with me and honored that the guys from Puddle of Mudd are joining us in Columbia. It's going to be a great time - a loud time - every night, and it's just the beginning of what we have in store. See you out there."
The fan club presale will be available this Wednesday, August 24.Tickets will officially go on sale to the public on Friday, August 26, at 10 a.m. local time. For additional information and upcoming appearances, visit hardyofficial.com.