LISTEN: Lainey Wilson Shares Original Track "Smell Like Smoke" On Latest Episode Of "Yellowstone"
"Smell Like Smoke" is now available to stream and lives on Lainey Wilson's latest record, "Bell Bottom Country."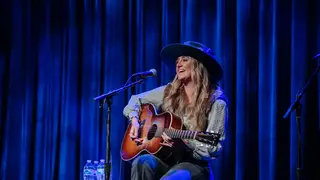 Lainey Wilson showcased her talents during the latest episode of Paramount Network's smash series "Yellowstone." Wilson stars as a musician named "Abby," a role that co-creator Taylor Sheridan made specifically for her. 
During the wild west production, the CMT 2022 Breakout Artist of the Year recipient debuted an original song titled, "Smell Like Smoke." 
The twangy track conveys an empowering narrative about a fearless female who is "not scared" to be herself and her dark history. The protagonist declares that she's been through hell, but wears her battle wounds with pride. The up-tempo melody that displays Wilson's captivating sound lives on her recently released album "Bell Bottom Country." 
"If I look a little drunk, it's 'cause I drank some | If my neck's a little red, it's 'cause I am one," she sings. "Heaven's where I'm gonna go, the Bible says so on my shelf | But if I smell like smoke, it's only 'cause I'vе been through hell." 
Wilson penned the razor-sharp lyrics alongside Derek George, Lynn Hutton, and Monty Criswell. Within the episode, the singer-turned-Hollywood actress delivered "Smell Like Smoke" at a sticky saloon called The Bozeman, before a massive brawl broke out – leaving Beth in handcuffs for aggravated assault. 
Beth is far from a regular at Bozeman Bar, as her husband Rip believes it's a tourist attraction and a place where all the "fake cowboys" go. Beth goes against his wishes to celebrate Lloyd's [Forrie J. Smith] 58th birthday and to drink with the bunkhouse boys. 
Just moments after Wilson catches up with her new love interest Ryan, which sparked in the season 5 premiere – a random bar-goer begins flirting with Rip. The free-spirited scene takes a particular turn, when Beth breaks a beer bottle over the stranger's head. 
The suspenseful episode concludes with Sheriff Ramsey showing up and letting everyone off the hook, besides Beth. His decision to take Beth into custody does not come as a surprise, as he made it clear in Season 4 that he wouldn't go easy on the Dutton family – despite their power. 
Following the episode, Wilson re-shared (Nov. 21) a post that featured a snippet of the song and the buzz-worthy bar scene that left "Yellowstone" fans on the edge of their seats. 
"@LaineyWilsonMusic's new song 'Smell Like Smoke' made its debut on #YellowstoneTV! Listen to her album #BellBottomCountry now, and break out the dance moves that would make Abby and Ryan proud," read the caption. 
TV Junkies instantly ran to the comments to praise the performance and to share their thoughts on her new on-screen romance. 
"What a debut 👏," said actor Denim Richards. "We definitely need a Ryan love story! Beth is a mess. Sometimes she's exhausting," wrote a follower. "I love that Ryan has a love interest. Colby and Teeter dancing made me happy! But, damn, did that chick have to put her moves on Rip? #Freebeth," added another. 
The hitmaker previously performed "Smell Like Smoke" during CMT's popular digital series "CMT Campfire Sessions." 
While sitting in front of a blazing fire at a "Yellowstone"-inspired ranch, Wilson stunned with her full-set band. The must-see episode is out now on CMT's YouTube and Facebook channels. 
The record-breaking show airs Sundays at 8 p.m. ET/PT on Paramount Network. Fans can now subscribe to the official "Yellowstone Newsletter," which will feature exclusive snapshots, episodes, never-before-seen clips, in-depth recaps, and giveaways. To join, visit @Yellowstone on Twitter.