Runaway June Steps Back Into The Spotlight With New Frontwoman And Releases "Broken Hearts (Do Broken Things)"
Runaway June: "We always want everyone to feel like they're a big part of what we're doing."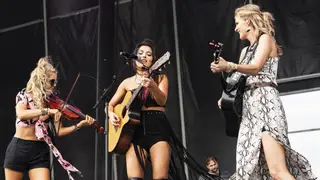 The seasoned singer-songwriter joined Natalie Stovall and founding member Jennifer Wayne. Woodward replaced Naomi Cooke, Runaway June's previous front-woman. Cooke spent nearly seven years with the all-female band, until she decided to leave and pursue a solo career. 
The ensemble announced the exciting new chapter in early April, but it wasn't until recently (Oct. 28) that they made their highly anticipated debut. The fierce trio released a bold and harmony-driven single called, "Broken Hearts (Do Broken Things)." 
The unapologetic track serves as a friendly reminder that everyone experiences heartache and makes debatable decisions post-breakup. Within the guitar-stacked melody, the ladies rattle off actions that most hopeless romantics do to move forward. 
"She's been making out with strangers | Shoots tequila without chasers | Been crying in the club | Sweepin' tears under the rug | She's been dancing up on tables | Call her crazy and unstable | But she ain't as messed up as you think," they sing with confidence. 
The razor-sharp lyrics were penned by Mandi Sagal, Steve Fee, and Sarah Lake. However, Runaway June tweaked the song from the first-to-third person. The impressive hook and upbeat melody won't have listeners grieving in their breakup blues, but will encourage them to sing along to the catchy chorus instead.  
"We all know that feeling of getting your heart broken and going out and doing some questionable things, so we wanted to make 'Broken Hearts' feel as supportive and inclusive as possible," shared Woodward. "Instead of making it just about one person's experience, it's all three of us singing to you and letting everyone know we're all in this together. It's our way of telling people, 'We all screw up sometimes, but it's okay because you're gonna get through it and come out the other side.' I think there's a real beauty in that."
The group revealed that the Mitch Furr and Justin Weaver-produced song took several sessions to come to fruition. Runaway June worked on the complex arrangements and vocals in Furr's apartment. Although Wayne and Stovall welcomed Woodward with open arms, they wanted to maintain their timeless country sound and "rule-breaking" originality. 
Wayne and Stovall recognized Woodward's unmatched talents very early on, and knew she would be a vital asset to the group. 
"We thought Stevie was perfect in every way, but we needed to make sure the chemistry was right. As soon as we got together, it was magic – our voices blended so well that it gave me chills," recalled Wayne. "Whenever we play this song live, we see the groups of girls out in the crowd dancing and going crazy, acting out the lyrics. That's exactly what we want from all our music – for people to hear it, let loose, and have so much fun," added Stovall.
The new and approved band made their first public appearance together at the Grand Ole Opry. Runaway June will step back into the limelight on Dec. 7 in Columbia, TN.