Luke Bryan Joins Five of His Co-writers to Celebrate Three No. 1 Hits
And We Discover One of the Things That Make Him Country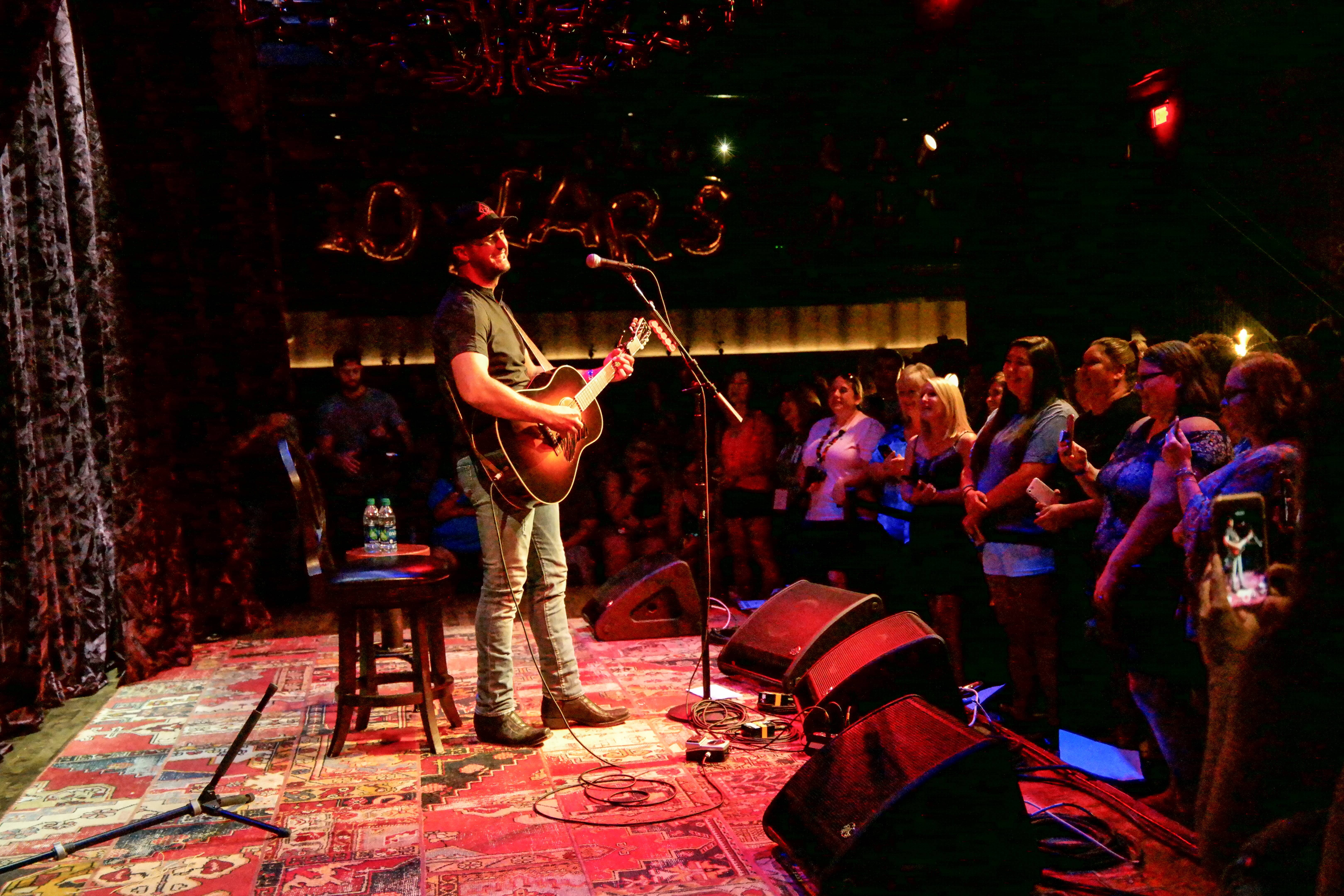 Luke Bryan really does know "what makes you country," one of his co-writers revealed at a No. 1 party Friday afternoon (June 8). More on this bucolic bean-spilling later.
What Makes You Country is both the title of Bryan's current album and tour.
Held in the luxuriously appointed Analog room of Nashville's posh Hutton Hotel, the party honored Bryan's co-writers on three recent No. 1 singles -- "Move" (with Michael Carter and Jay Clementi), "Fast"(with Rodney Clawson and Luke Laird) and "Light It Up" (with Brad Tursi).
Bryan has since topped the charts with "Most People Are Good." Security for the event was tight. Guests had to show identification and be fitted with a wristband to enter. Once in, they had their choices of two bars and intimate seating that included leather sofas, complete with footstools. A chandelier hung over the stage.
Bryan moseyed in about 15 minutes before the presentations got underway and moved companionably from one cluster of guests to the next. Most of the partygoers were from the music industry. But several family members of the songwriters were also present.
A table laden with hamburgers and deep-fried cylinders of macaroni and cheese stood at the back of the room between the bars.
BMI's Mason Hunter hosted the proceedings. He announced that the three songs being spotlighted brought Bryan's total of No. 1s as an artist to 20 and that of these 20 he had co-written 11.
Cindy Mabe, president of UMG Nashville, Bryan's record label, told the crowd that Bryan has been instrumental in broadening country music -- with album and ticket sales to prove it -- and reminded them that he now serves as a judge and mentor on American Idol.
When Bryan came to the stage, he seemed almost dazzled by his own chart and sales statistics. "You don't think of these numbers," he said, "until you get them told to you like this."
Ruminating on how he felt when he first set out on his road to fame, Bryan added, "You're so scared when you chase that dream, and you don't know if you're good or bad."
Still, Nashville was welcoming to him, he said, when he moved there in 2001. "I'm amazed at how you can go from not knowing anyone in town [to it being] your home."
His fellow songwriters gradually joined Bryan on stage as he told tales about how he'd met them and how the songs they wrote together came about. "At the end of the day, I'm fired up by these songwriters," he proclaimed.
He spoke of Clementi becoming his faithful fishing buddy on the road and of how he fretted about word choice when Tursi insisted on using the word "neurotic" in "Light It Up." Picking up the thread of songwriter diction a moment later, Bryan asserted "It doesn't get any funner than this.
Being the "other Luke," Laird said, could sometimes lead to confusion. He recalled that early on he was in the middle of writing a song with a more famous writer who then asked him when his record was coming out, having mistaken him all along for Luke Bryan.
But Bryan upstaged Laird with an even more egregious instance of mistaken identity. He said he was on the red carpet "two nights ago" when an interviewer asked him, "What are you gonna name the dogs?" obviously confusing him with Blake Shelton.
However, it was Tursi who told the best tale of all -- the one that solidly confirmed Bryan's country creds. He said he'd gone to write with Bryan just as he was moving into his new house on a lake. It was a grand structure, he said, that featured an elegant songwriting room.
Bryan told Tursi to go on into the house and that he would soon join him. Tursi said he was admiring the songwriting room and strumming his guitar when he looked out "this big picture window" and saw Bryan leisurely relieving himself in the lake.
Taking a whiz outdoors with your mansion at your back -- now that's what makes you country.