Toby Keith Wants To Tour After Battling Cancer But Needs To Get Back Into "Fightin' Shape"
Toby Keith talks BMI Icon Award and reflects on his humble beginnings.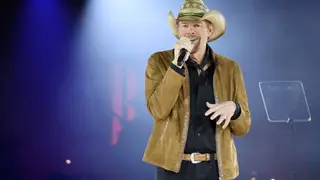 Country music hitmaker Toby Keith will return to the stage after battling stomach cancer.
Keith caught up with CMT Hot 20 Countdown's Cody Alan for an exclusive interview. The icon confirmed that he would be stepping back into the limelight sooner than later.
Despite a long year of treatment, the Oklahoma native looks forward to a bright future full of live shows.
"Yeah, I'm thinking about… I'm thinking about getting back to fightin' shape. I need a little bit of time to just rest up and heal up," said Keith. "It's pretty debilitating to have to go through all that, but as long as everything stays hunky-dory, then we'll look at something good in the future."
Keith has not scheduled dates on his calendar because he is still prioritizing his health. However, he recently held an impromptu concert at Jeff Ruby's Steakhouse in Lexington, Kentucky, ahead of the Breeders' Cup. Following the pop-up show that served as Keith's first performance since his diagnosis, he accepted the BMI Icon Award.
The prestigious accolade acknowledges exceptional songwriters and their "unique and indelible influence on generations of music makers." Legends such as Loretta Lynn, Dolly Parton, Willie Nelson,  Hank Williams Jr.,  Stevie Nicks, Kris Kristofferson, and more have received the BMI Icon Award.
"Being maybe one of the youngest cats ever to be a BMI Icon. When we're in the middle of it and doing all that stuff, building that catalog – we didn't know what we were accomplishing, we just had our heads down working," he explained to Alan. "The songwriting stuff was always the most important to me. When I got here [Nashville], they were like, 'Are you a songwriter?' and I was like, 'I think I am,'" he recalled.
He continued, "I just hoped that the artist and the other part would carry it or somebody would cut these songs. But, it all worked out in the end."
The memorable affair was jammed-packed with tribute performances from some of the hottest stars in country music. Carrie Underwood tackled his No.1 track "Should've Been A Cowboy," as Eric Church placed his own spin on fan favorite "I Love This Bar." Keith's Long-time collaborators Dean Dillon and Scotty Emerick also joined forces on "A Little Too Late."
When BMI VP of Creative Nashville, Clay Bradley, and CEO of BMI Mike O'Neill presented the award, Keith reflected on his start story and why the organization played a vital role in his music career.
"When I got to Nashville, they said, 'You got to get affiliated.' I said, 'What does that mean?' they said, 'Well, you wrote these song. You gotta get  affiliated.' So, since 1990 or '91, I have been affiliated with the greatest organization in the music business, and that's BMI," he said during his acceptance speech. "They've been so great to me as a songwriter because I knew that even if I didn't make it as an artist, that maybe somebody would cut my songs. I always felt that songwriting was the most important part of this whole industry," he added.
The industry was thrilled to see Keith doing well, as he vocalized his shocking fight with cancer over the summer. The vocalist has been undergoing treatment since the fall of 2021 – receiving chemo, radiation, and surgery. Keith pulled out of a string of scheduled appearances to "breathe, recover, and relax."