THE ROUNDUP: New Music From Cole Swindell, Alyssa Bonagura, Luke Grimes and More
Listen to all of CMT's new country music picks in our CMT Roundup Playlist.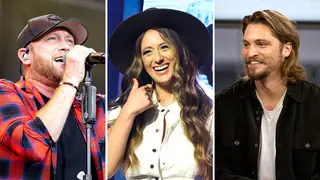 Country music fans are cruising toward spring break with a slew of new songs to add to their good-times playlist. This week, artists including Cole Swindell, Warren Zeiders, Seaforth, Boy Named Banjo, Luke Grimes, Alyssa Bonagura and more released new music to make memories to. Some of them are happy while others aren't, but every soundtrack needs some hills and valleys. Listen to all of CMT's new country music picks in our CMT Roundup Playlist.
Cole Swindell, "Broken": "I went in the room with (songwriters) Hillary Lindsey, Cole Taylor, Chris LaCorte that day and I told them I have a title," Swindell said of writing the song. "I said I know it sounds like it could be very sad, but maybe it's a love song about a girl? We wrote it like it is, talking to a girl, 'Your heart wasn't made to be broken.' That's the twist on that. It just looks like a cool title to me."
Seaforth, "I Can't Take You Anywhere": "This song is essentially about being so into someone that you can't help but get distracted by how good they look and end up canceling plans just to be with them," said the duo's Tom Jordan and Mitch Thompson. "Musically and lyrically, it's a bit different for us, and it feels like a progression. We remember diving in pretty deep on the lyrics and taking our time getting the phrasing and internal rhymes right the day we wrote it. We loved it after we wrote it, but it was one that crept up on us over time. We're excited for people to hear this one and hopefully relate it to their own lives in some way."
Boy Named Banjo, "Whiskey Dreams": "'Whiskey Dreams' is all about the feeling of letting go. Letting go of the problems you have, living in the moment, and loving who you're with. That's how we approached this song," said Barton Davies. "We didn't hold anything back and just had fun playing it together and it gave us a jolt of energy and the feeling like we were back on stage again. You can feel the months of pent-up energy coming out in this track. We cut loose and had a hell of a time doing it. And there may have been a little whiskey involved too!"
Luke Grimes, "Oh Ohio": "I left Ohio over twenty years ago to chase a dream," said Luke Grimes. "It was a big moment for me when I realize that Ohio wasn't my home anymore; I'm sure many people who have moved away can relate. It felt like home for a very long time but over the years I could feel the drift. 'Oh, Ohio' is less of a song about leaving home and more about losing it. It's a breakup song but with a place. Knowing your time together is over but you are a part of each other forever."
Emily Ann Roberts, "He Set Her Off": "I'd read a quote somewhere that said, 'He thought she was fragile like a flower but she was fragile like a bomb,'" Roberts said. "I brought that into this session with Seth and Parker, and they loved it. Just that idea that all actions have consequences. And also how there are all these country songs about women going nutso on their men. Chances are, something or someone made them crazy in that way. They weren't crazy on their own. I saved this song for three years, and now when I play it at shows or writers' rounds, everyone seems to love it, so I know people can relate to that idea."
Andrew Jannakos, "Meet My Maker": "'Meet My Maker' came about when I realized every time I was in the outdoors, I would catch myself talking to the Good Lord, asking for forgiveness or just talking to Him to get some things off my chest," Jannakos said. "And if you haven't got to experience it before, it's something that will just stop you in your tracks. To get to watch the sun cross over and begin to rise, to hear all the animals come to life and watch them start off a new day with no clue you're there. It's something you'll never forget, and it's where I Meet My Maker."
Alyssa Bonagura, "Jealous": "I found this #5leafclover in my backyard in 2020," Bonagura said. "When I read the statistics of finding one, it said 1 in a million! Thought that was the best way to describe the kind of  love that's talked about in this song."
Warren Zeiders, "Pretty Little Poison": "This is my favorite song that I've ever written," Zeiders said. "Like a moth to a flame, this song is about being led into temptation between love and toxicity. Choosing something or someone that we ultimately know will hurt us in the end."