WATCH: Billy Strings, Willie Nelson Drop Surprise Collaboration "California Sober" Day Before Nelson's 90th Birthday
Willie Nelson is known for his love of his collaborations. See "California Sober" and 10 additional Willie Nelson collaborations.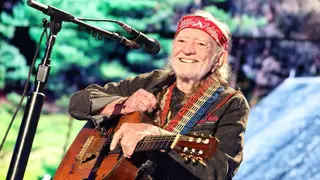 Willie Nelson will celebrate his 90th birthday Saturday – April 29 – with an all-star two-day concert event at the Hollywood Bowl.
Woody Harrelson, Chelsea Handler, Ethan Hawke, Helen Mirren, Jennifer Garner, Owen Wilson, George Strait, Snoop Dogg, Miranda Lambert, Norah Jones, Sheryl Crow, Dave Matthews, Tom Jones, The Chicks, Chris Stapleton, Allison Russell, Beck, Billy Strings, Bobby Weir, Dwight Yoakam, Edie Brickell, Emmylou Harris, Gary Clark Jr., Jack Johnson, Jamey Johnson, Kris Kristofferson, Leon Bridges, Lukas Nelson, Lyle Lovett, Margo Price, Neil Young, Orville Peck, Rodney Crowell, Rosanne Cash, Shooter Jennings, Sturgill Simpson, The Avett Brothers, The Lumineers, Tyler Childers, Warren Haynes, Waylon Payne, Ziggy Marley and more are slated to participate in the event.
However, Nelson and Strings started the party a day early when they dropped a surprise collaboration on "California Sober" that leans into their love of the leaf.
"I'm so honored to have made this song with Willie Nelson," Strings said on Instagram. "We're gearing up to celebrate this living legend's 90th birthday this weekend in L.A., and he's still out here kicking ass. What an absolute treasure and inspiration to us all. I can't really find the right words to describe how much this means to me.."
Well, I used to like to ramble with my good-time friends and neighbors / Now I find I'd rather lie awake in bed/ And I don't get to acting mean when I keep my buzzes clean / And keep the hard stuff and the whiskey from my head… /  I can't stay out and party like I did back in the day / So I'm California sober as they say
Strings said he grew up listening to Nelson's music with his grandfather. The old man's favorite song was "Blue Eye's Crying in the Rain," and he liked for Strings' dad to sing it for him.
"Grandpa Bill (was) sitting there with a cold beer in one hand and one of his lil' pinner joints in the other with a big smile through the whiskers on his red face," Strings recalled. "I wish Grandpa was still alive. We'd be kicking up a fuss!! Willie's music has helped shape so many of our lives, even if we don't know it. It's there. It's woven into the fabric of our nation. I feel almost patriotic when I think of Willie Nelson. I will cherish this song for the rest of my life. I love you all..
Here are 10 of Willie Nelson's least-known and most popular duets. 
Willie Nelson and Waylon Jennings, "Mama's Don't Let Your Babies Grow Up To Be Cowboys":
Willie Nelson and Johnny Cash, "Ghost Riders in the Sky":
Willie Nelson and Julio Iglesias: "To All the Girls I've Loved Before":
Willie Nelson and Ray Charles, "Seven Spanish Angels":
Willie Nelson and Kenny Chesney, "Coconut Tree":
Willie Nelson and Snoop Dog, "Super Man":
Willie Nelson and Waylon Jennings, "Good Hearted Woman":
Willie Nelson and Chris Young, "Rose in Paradise":
Willie Nelson and Keith Richards, "We Had It All":
Willie Nelson, Toby Keith, "Beer For My Horses":