SONG PREMIERE: Rodney Crowell's "Christmas Makes Me Sad"
Releases 'Christmas Everywhere' Nov. 2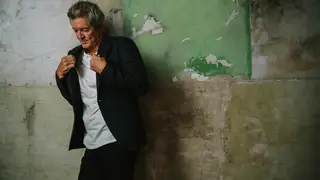 Certain holiday blues come with seasonal creep, and Rodney Crowell has felt it before.
There was a time when the commercialization leading up to the holidays put Crowell in a Christmas funk. At the time, his children were grown with families of their own, and the holiday mystique had lost its luster. He was primarily a living Charlie Brown waiting on a Linus to remind him what Christmas is all about. His Linus finally came in the form of a Hayes Carll song called "Grateful for Christmas" (from his 2011 album, KMAG YOYO) while on a drive through Franklin, Tenn. The mid-tempo ballad takes place around a family's Christmas dinner table and embodies the realism of the holiday with the missing dressing, counting blessings and putting aside the dysfunction that sometimes comes with being around family for too long.
"I heard Hayes' song on the radio, and it broke through," Crowell tells CMT.com. "It's so good, and it was really great writing, and I'm a fan of great writing as you know."
Crowell can't remember where he was going that day, but instead of going to his planned destination, he headed straight to Franklin's charming downtown to get in the holiday bustle and buy presents for everyone in his family.
"I got out of my car and walked down both sides of Main Street and bought a big sack of Christmas presents," Crowell said. "I was delighted to hear that song and even more delighted that in my little town I could actually avoid the mall, walk down Main Street and buy presents."
It was then that he had the initial idea to put together a Christmas album that showed the realism of the holidays. Over time, he wrote a series of songs and collected them for what would become his next full-length album, Christmas Everywhere, available Nov. 2. The newest release from the collection is "Christmas Makes Me Sad," a swinging, irresistible holiday love song written with Chuck Cannon in the mid-'90s.
"I know a lot of folks who prefer the sentimentality of Christmas and like that music," Crowell says. "I certainly wasn't aiming at sentimentality with my Christmas songs. I was aiming at reality. Christmas can be a lonely time, and often times, families are shattered, and families are at their worst often times at Christmas as well as at their best.
"But [this album] turned out to be a family affair because I wrote one of the songs with two of my children, and I wrote one of the songs with two of my grandchildren. My son-in-law [Dan Knobler] produced the record, so it was kind of a family affair."
Some Crowell family Christmas memories are weaved into the lyrics. There is a sequence in the title track that was inspired by one of his grandchildren's astute wishes for Santa Claus and performed by guest artist Lera Lynn.
"My granddaughter got on Santa's knee and said, 'I want you to bring me a time machine so I can go back to the day John Lennon was killed because I can talk that man out of doing it.' Lera's just magic on all fronts and such a good soul. There was no doubt that Lera was the soul needed there."
Other guests on the album include his former Notorious Cherry Bombs bandmate, Vince Gill and instrumentalist John Jorgenson. Crowell will open for Amy Grant and Gill for the couple's Christmas at the Ryman residency starting Nov. 28 in Nashville.