Kelsea Ballerini Is All Grown Up, Says She Traded Naivety For Being Saavy And Nimble
"CMT Storytellers: Kelsea Ballerini" premieres on CMT at 10p/9c Thursday with encores at 11p/10c Thursday, Sunday, February 19 at 11a/10c (CMT) Friday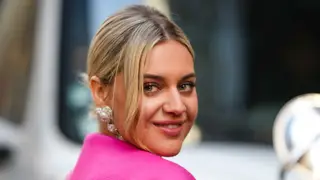 When Kelsea Ballerini taped her episode of CMT Storytellers in January, she had a secret. Ballerini was preparing to release a surprise new EP, "Rolling Up The Welcome Mat," that shared her side of the story from her high-profile divorce from fellow country singer Morgan Evans.
Ballerini was vulnerable and determined when she perched on a stool with her acoustic guitar balanced across her knees. She fought back tears to sing about wishing her ex well while refusing to ever lose herself again.
Fans can watch Ballerini sing "Leave Me Again" tonight when "CMT Storytellers: Kelsea Ballerini" premieres on CMT at 10p/9c. The show will have an immediate encore at 11p/10c Thursday and additional airings on Sunday, February 19 at 11a/10c (CMT) Friday, February 24 at 8p/7c (CMT Music) and Saturday, February 25 at 10a/9c and 6p/5c (CMT Music). Ballerini's six-song "Rolling Up The Welcome Mat" was released on Valentine's Day. The show and the EP are a one-two punch for the female vocalist starting her European tour in a few days and will co-host the CMT Music Awards on April 2.
"If you would've told me last year at this time, this is where (my life would be), I wouldn't have really believed you," Ballerini said. She's seated on a black leather couch with her back resting on a zebra-striped pillow backstage at a production venue about 30 minutes outside of Nashville. Her name was in headlines because she was photographed with a hot young actor, but her heart was in her songs.
Less than one month from the release of "Rolling Up The Welcome Mat" and its accompanying short film, Ballerini only said that she had some things slated to be released soon that she had been pouring herself into. The rest of the evening was dedicated to celebrating "CMT Storytellers" and the songs and stories that have made her one of the most prominent female voices in this generation of country singers. The East Tennessee native is the first female to appear on "CMT Storytellers."
"I feel like it's this iconic series of artists that I've studied and learned from and that have shaped me as an artist and a songwriter," Ballerini said. "It's where the glitter goes away for a little bit. You get to just hear about the heart behind the hits and why they came to be, and what makes them special to the person that sings them. Everyone I have grown up on or the people that just listen to on the radio now have been on this show, and this is really cool to be a part of."
Ballerini is a rare combination of glitter and grit. She's open and authentic, articulate, graceful, warm, and not afraid to laugh at herself or cry on camera. She'll empty her purse in front of media and not hide her tampons. She's the first to say hi at Trader Joe's on a morning grocery run – her face free of make-up and her hair in a ponytail. Yet, she stands in the spotlight nightly and makes thousands of people feel like they're in her living room, and she just lit up New York fashion week with the beauty, style and poise of the models on the runway.
Eight years after she released her debut hit "Love Me Like You Mean It," and on the heels of her achingly beautiful diary to divorce and healing, "Rolling Up The Welcome Mat," there's no doubt who Ballerini is and who she has always been. Ballerini is a songwriter.
"My favorite artists are the ones that I feel like I can reach out and touch, not the ones that I feel like are in a glass box," she said. "I want to be the same person out to dinner with my friends as I am sitting here talking to you as I am on stage for whoever's going to be here tonight. I just don't want to be hanging confusion on who I am, and the glue of that is the songwriting. At the end of the day, I want to be known as a good songwriter and a good person. That's what I care the most about."
It's the reason she wanted to do "CMT Storytellers." The opportunity to spend the night with her guitar and her songs in an environment dedicated to the stories that inspired them and her experience living through them was refreshing to her.   
She knew she wanted to sing some of her radio hits like "Peter Pan" and "Miss Me More," but she also chose to sing "Doin' My Best," a deeper cut from her album "Subject to Change" because the song was important to her in a different capacity.
"That was a song that I felt like was just kind of like awkwardly honest," she said. "It jarred some people, and I loved that. So I wanted to tell that story."
The songs on "Rolling Up The Welcome Mat" are the back half of the story Ballerini started telling with "Doin' My Best." The lyrics in "Doin' My Best" include lines about therapy for one turning into therapy for two and the "shit" that comes with getting married "that young."
"Rolling Up The Welcome Mat" paints a picture of two people growing apart, dividing possessions and lives, loneliness, resolution and awakening. The production is stark, moody and keeps the focus tight on Ballerini – her lyrics and voice. She wrote or co-wrote every song on the album. Then, she wrote and directed, alongside co-director Patrick Tracy, a dramatic 20-minute film that portrays the intense emotions, understanding and acceptance that went into "Rolling Up The Welcome Mat."
"here's my healing journey," Ballerini wrote on Instagram at 11 p.m. on February 13. "here's my heart. here's my truth. i've never been this open, i've never been this bold, and i've never been this proud of my art. so, with love and respect, i'm rolling up the welcome mat. six song story and short film out now. happy valentine's day. ❤️‍🩹"
The people who have worked with Ballerini the longest always knew this level of depth and artistry was in her – she just had to live through the circumstances to tell the story. With the release of "Rolling Up The Welcome Mat," the rest of the entertainment industry recognizes what much of the country music community has known since Ballerini was in her early 20s.
"We've been waiting for this moment of connection for so long," said Tanya Schrage, Vice President of Marketing for Black River Entertainment. "The building blocks have been there. The air is definitely changing now, and I think she has grown so beautifully into her own right. I think now, with this place of peace that she's come to and this crazy confidence, it comes with artistic maturity. She's not going to sugarcoat stuff. It is what it is. And she lives her life faithfully, wide open for everyone to see."
While Ballerini focused on her hit songs on "CMT Storytellers," fans might hear more from "Rolling Up The Welcome Mat" on her European tour next week and the second leg of her Subject To Change Tour that she will launch in March. She intentionally kept the venues intimate to make the shows a more personal experience, and tickets sold out quickly.
"She is fearless, and she is a true entertainer," said Leslie Cohea, General Manager/Director of Touring at Sandbox Entertainment, the company that manages Ballerini's career. "It's what she loves most, and you can just see it with a connection with her fans. We thought, 'How do we take a step back so she can really connect with her fans and really kind of deliver the experience she wants to. And, she did it, man. (On the first leg of the tour), people stood up the whole time and sang every word."
After the second leg of the Subject to Change Tour, Ballerini will go on tour with her "Half of My Hometown" duet partner Kenny Chesney.
"I'm really excited to tour my booty off," Ballerini said. "I'm really excited to take some me time this year, whatever that's going to look like. I don't know yet. I'm excited."
Looking back over the last eight years, the singer feels her growing pains – personally and professionally. But she also realizes that what she didn't know became her superpower.
"I'm grateful for the naivety that I had in the beginning," she said. "I'm grateful that I knew to ask questions. I'm grateful for the lessons that I now have taken to the future. I'm glad I'm not naive anymore. It was my secret weapon until it wasn't. Now being smart, savvy, and nimble is my secret weapon."