Gabby Barrett Says Luke Combs Wrote A Song For Her Upcoming Album: "I'm A Big Fan"
Gabby Barrett currently has the top streaming song by a female artist on the Country radio charts.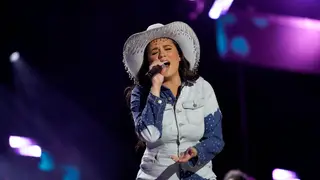 "He pitched me a song not too long ago," shared the songstress. "As soon as I heard it, I was like it really strikes a chord with me."
Barrett continued to mention that incorporating the track into her full-length project was a no-brainer.
"I'm a big fan of his," declared the mother of two. "I'm definitely gonna put it on my album coming out later this year. He was very adamant about the song and me recording it. I think it's an awesome song, and it's coming out this year," she added.
Barrett kept additional information about the unreleased song on the down-low, but nonchalantly teased a potential duet with her husband and guitarist, Cade Foehner. The two fell in love while competing on Season 16 of "American Idol" in 2018. Following their time in Hollywood, the country couple got engaged and tied the knot in 2019. Barrett and Foehner now share a daughter, Baylah May, together and just welcomed their second child, Augustine Boone.
"Probably, there's a good chance," said Barrett referring to the collaboration. "There have been a lot of requests for that. Maybe on album two this year. You never know. I'll let you know!"
If Barrett goes through with her plan, the song will mark their first husband-and-wife duet. The overwhelming wave of requests followed Barrett's Instagram post in September, where she gave a sneak peek of a track and asked fans for recommendations.
"Album #2 at work…😏 What do you want to hear? Who do you want a duet with?" she wrote alongside the audio file.
Despite the lack of information surrounding the folk-like banger, country music fans flocked to the comments to give their honest opinions and to pitch some names for a duet. 
"Make a duet with your hubby❤️❤️, stressed a follower. "You and Cade," said another. "Cade definitely needs to sing more."
Although it is unclear whether the collaboration will make the final tracklist, the Pennsylvania native previously confirmed that a song dedicated to her children would make the cut.
"I'm trying to figure out the theme of what I want it to be. I haven't done that yet. I do know, that I always write about real-life instances that are going on," Barrett told Celeb Secrets. "So, you probably will find a song about a baby in there."
The record will follow her chart-topping debut album, "Goldmine." The 13-song collection includes "I Hope," "The Good Ones," "Got Me," and many more fan favorites. Her platinum-selling single, "Pick Me Up" recently (Jan. 17) became the top streaming song by a female artist on the Country radio charts. As she was hosting the Country Countdown USA, Lon Helton surprised Barrett with the official RIAA certification.
"That's awesome. Thank you, thank you, thank you. I have the best fanbase in the world," shared Barrett. "Country music lovers are seriously just the most loyal fanbase I've ever seen in my life, so I'm very grateful to be a part of this format. I love this song, so I'm glad other people do too."
Barrett co-wrote "Pick Me Up" alongside Ross Copperman and Jon Nite. The playlist-worthy track has surpassed 225 million global streams to date and is quickly approaching 5 million on her eye-catching music video. The promising star has not revealed the official release date for her second studio album, but she will be hitting the road with Kane Brown in the Spring.