Pics: Cole Swindell Is Engaged!
Cole Swindell proposed to Courtney Little at the location of their first date - his video shoot for his song "Some Habits."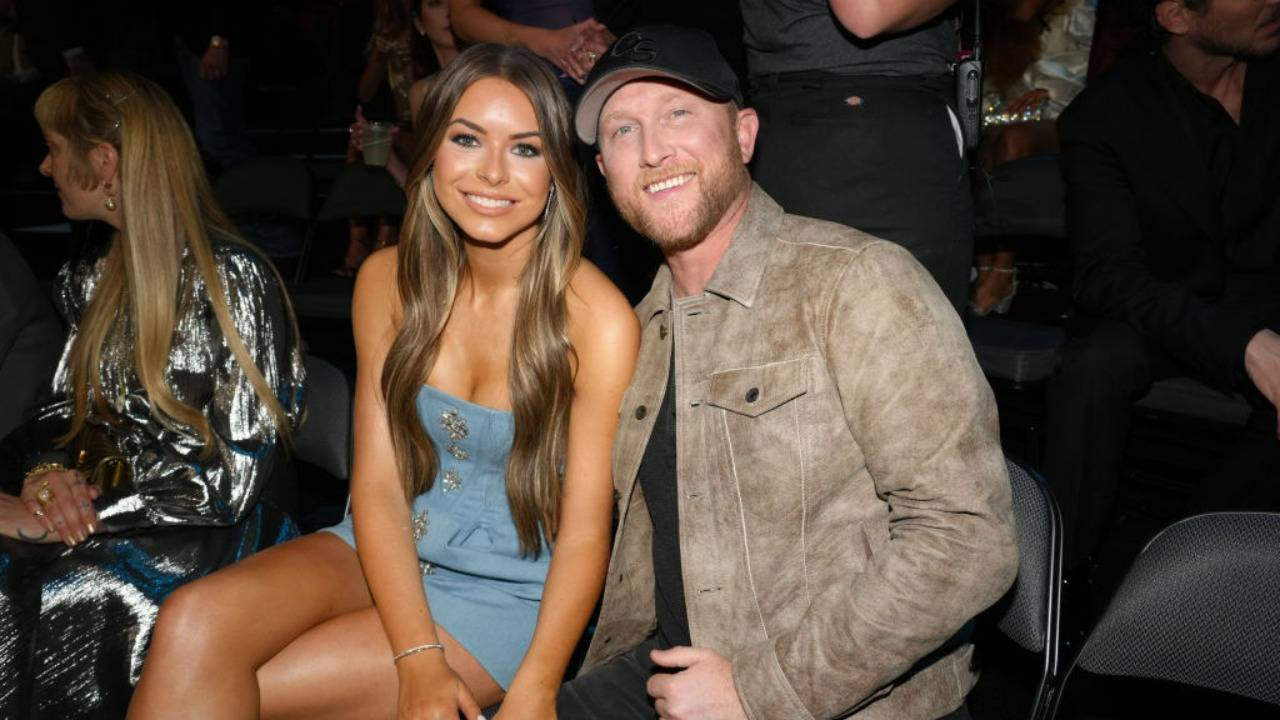 Cole Swindell braved Nashville's torrential downpour on Sunday to get down on one knee and propose to girlfriend Courtney Little on a farm outside of town – the site of their first date.
Swindell and Little taped his music video for his song "Some Habits" at the property north of Nashville. While Swindell originally planned to propose later in the week, he told People he decided the farm location was more meaningful to them both.
He got Little's father's permission weeks ago and then checked with her sister to ensure she thought his plan was solid. Swindell designed the engagement ring with the help of Simon Tekin at Ballantyne Jewelers in Charlotte, North Carolina, near Little's hometown. Knowing he wanted to propose on Sunday, he asked someone from the store if they would hand-deliver the large, oval diamond ring to Nashville. The singer braved Music City traffic to meet the jeweler Sunday morning. Then knowing he and Little would be on his tour bus heading to Texas later in the day, he told her they planned to stop and eat dinner along the way. That way, he said he knew they would both be dressed well.
"I was pretty excited about that idea because that means something," Swindell said of the chosen location. "And I didn't think she would expect that whatsoever. I wanted her to be surprised."
He was nervous she might suspect something was amiss when the bus turned north toward Orlinda, Tennessee, instead of south to Texas. He and his crew cooked up a story that the bus had to stop by the garage just in case Little realized they were heading in the wrong direction. But she didn't. It had rained so much on Sunday that Swindell worried the bus couldn't make it down the gravel road to his chosen location or that the weather would be so atrocious they couldn't get off the bus. Neither proved to be the case.
"If it was a little sprinkle, it was fine, but I didn't even know if I was going to be able to get us off the bus onto this gravel drive," he said. "The whole big issue was just us walking down this long gravel drive up to a farmhouse. I couldn't remember exactly how muddy it was going to be or anything. I didn't get the sunset I was hoping for, but the fact that it had stopped raining, that was good enough for me."
Swindell took Little's hand and led her off the bus. She recognized where they were at that point, and Swindell said he thinks she knew something was going on.
"I just took her hand and walked for what felt like a long time, but it probably wasn't," he said. "I asked her if she remembered this place and told her that this would always be a special place to me. At that point, I couldn't wait any longer. I found a little spot right there off the side of the gravel drive in the field and hit a knee. And we're still trying to both remember everything. We both blacked out. I don't know exactly everything I said; all I know is that at the end of it, she said yes."
Swindell recently released the deluxe version of his album "Stereotype," home to his hit song "You Had Me At Heads Carolina," called "Stereotype Broken."