Chris Young Recalls A Ride Down Iraq's Deadly Route Irish To Help A Veteran Conquer His Fear
Chris Young: "I'm not a political person. I don't do politics. I do support the military. That's the most important thing for me."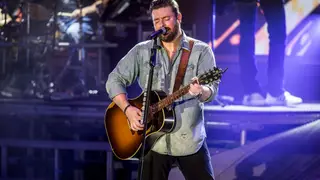 Chris Young's respect for veterans is a family tradition.
Young's grandfather was in the military, and his younger sister was a Marine.
"Once a Marine, always a Marine," Young said. "I'm not allowed to say she used to be. I'm allowed to say she was. You'd be surprised. You can get yelled at really easily by phrasing it the wrong way," he added, laughing.
Veterans Day is on Friday, and the "Famous Friends" singer is always anxious to lend a hand to those who wear a uniform. Young recently performed at the fourth annual Charlie Daniels Patriot Awards at the City Winery in Nashville and helped raise more than $500,000 for military veterans through The Charlie Daniels Journey Home Project.
Young and his mother even got into a heated bidding war over an American flag flown over military bases in the middle east. The flag went to a different bidder for more than $100,000. Young still donated his bid amount to The Charlie Daniels Journey Home Project.
"I just love that this is an organization that takes care of our veterans because they get overlooked and underserved, and a lot of people say thank you, but a lot of people don't put their money where their mouth is," Young said. "It helps people that have been in military service and need help. The most important thing is to be able to raise money for a cause like that. That's one of the things that we always talk about a lot, especially in country music - using our time to be able to do things that are really important to us. When I get an opportunity to raise money for our veterans, and that's something I'm passionate about, that's something I'm going to do."
Young was the first recipient of the Charlie Daniels Patriot Award four years ago. And he's literally been through war zones with The Charlie Daniels Journey Home Project's co-founder David Corlew. The singer remembers a trip to Iraq where he and Corlew went down Route Irish, one of the most dangerous stretches of road in the world, with a veteran who had been wounded on the strip.
"He wanted to be able to say, 'I've conquered this fear,'" Young said of the veteran. "I've been all over the world. And the very first time that I got to go somewhere that wasn't in the U.S. to play for our military was with (David Corlew). Now he's carrying on the legacy that Charlie started. Everybody thinks about his music first, but this is something that he's done and created with his family that is going to hopefully last forever to help our military."
Young is clear, though. He doesn't want his dedication to veterans and the military to be construed as a political statement.
"I'm not a political person," he said. "I don't do politics. I do support the military. That's the most important thing for me. It's not a political thing. It is a love, respect, and support of our military personnel no matter what they do. They're giving up time with their family. They give up their time for everyone else. And I think that's something that deserves our respect and deserves our support, and I'm happy to do so."