Kimberly Perry and Husband Johnny Costello Welcome Son
Watch: Kimberly Perry posted a video of her baby boy on Instagram.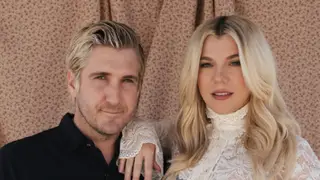 Kimberly Perry went from her Grammy-winning music career with her two brothers in The Band Perry to releasing music as a solo artist. However, she's still surrounded by two boys. Perry and her husband, Johnny Costello, welcomed their son Whit on Saturday, August 26, at 4:01 p.m. in Nashville.
"Welcome to the world, Whit," Perry posted on Instagram. "I feel like in one short week, Dad and I have moved from a season of BLOOM into a SUPERBLOOM."
Whit was born weighing 7 lbs and 8 oz. The new mom couldn't be more excited.
"Our lives have become sweeter, our days have become so much fuller, our sleep has gotten shorter - our house has truly become a home," she wrote on Instagram. "Thank you all for your prayers and well wishes. It's been such a sweet time getting baby Whit here safely and soundly and acclimating as a new family. We can't wait to show him the world - this bus baby is ready to roll!"
Perry announced her solo career and pregnancy within days of each other this spring.
"The best news of all the good news lately," she wrote on Instagram. "I'm OVERFLOWING WITH JOY to share that Johnny and I are expecting our first baby in late August!! We're absolutely beside ourselves with happiness and in awe of the Creator's plan."
Perry is known for songs including "If I Die Young," "DONE" and "Better Dig Two," wrote that building her own family was something she's dreamed about for as long as she can remember.
"As a woman and as an artist, I've always felt like I had to make a choice between growing my career and growing life," she said. "But YALL - I'm doin' em both at the SAME TIME!! Here we go! 🤍🤍🫶🫶"
The Band Perry announced on March 27 that they "decided to take a creative break as a group and each focus on our individual creative pursuits."
"During this season, we will continue to support each other as artists and family in all we do," the post said. "Thank you for making our childhood dreams come true."