LISTEN: Jordan Davis and Danielle Bradbery Join Forces On New Track "Midnight Crisis"
Jordan Davis and Danielle Bradbery will drop "Midnight Crisis" tomorrow, Sept. 23.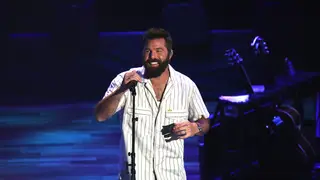 The platinum-selling artist previously turned to social media to share footage from a recent performance at the Resch Center in Green Bay, Wisconsin. Davis surprised his fans not only with the powerhouse songstress, but with a new track titled "Midnight Crisis."
Bradbery sported an eye-catching sequence suit, as Davis wore a simple baseball cap and a flannel button-down shirt to debut the highly anticipated collaboration. The duet is not like anything we have ever heard before from Davis and far from his sound in the smash hit "Buy Dirt." Davis and Bradberry seamlessly drive the guitar-stacked and percussion-heavy melody with their harmonizes, which is destined to spark a chill down your spine. However, it's the base drop before the electronic-like chorus, that will make "Midnight Crisis" the ultimate dance party song.
"I'm wide awake and playing back our history | Ain't never felt nothing like this | This is a midnight crisis," the two sing while feeding off each other's electrifying energy.
The radio-ready hit conveys a story about ex-lovers reflecting on their past relationship, after getting hit "out of the blue" with feelings. Following the show-stopping act, the two shared a warm embrace, and Davis revealed that "Midnight Crisis" is slated to be his next single. Davis and Bradbery will release the duet on Friday, Sept. 23.
"Pumped for y'all to finally hear Midnight Crisis this Friday…Gott a chance to debut it in Green Bay this weekend," he wrote alongside the teaser video.
The track is already receiving positive praise. The snippet received 13K likes on Instagram and 61.2K views on TikTok. Fans rushed to the comments to express their overwhelming excitement.
"Can't stop listening to the teaser. Hurry Friday 😂It will be on repeat Saturday morning," shared a follower. "Goosebumps," added another.
Davis recently told CMT that "Midnight Crisis" marks a new chapter in his artistry and was the first song he wrote for his forthcoming full-length album, which is due to drop in February 2023.
"Midnight Crisis is a duet with somebody [Danielle Bradbery]," he mysteriously confessed. "She's one of, if not my favorite voices in Nashville."
The country crooner continued to reveal more details about the writing and recording process.
"That was the first song that we wrote," Davis exclusively shared. "We pushed some boundaries on it. We didn't want to sit down and re-write another 'Buy Dirt.' We have some new sounds in it, and we pushed the production on it. We just kind of approached songwriting different that day. It kind of felt like a new chapter we started," he added full of enthusiasm.