Carrie Underwood Shares A Photo From Her Denim & Rhinestones Tour Rehearsal
Carrie Underwood shares how she's resting before her nationwide run with Jimmie Allen.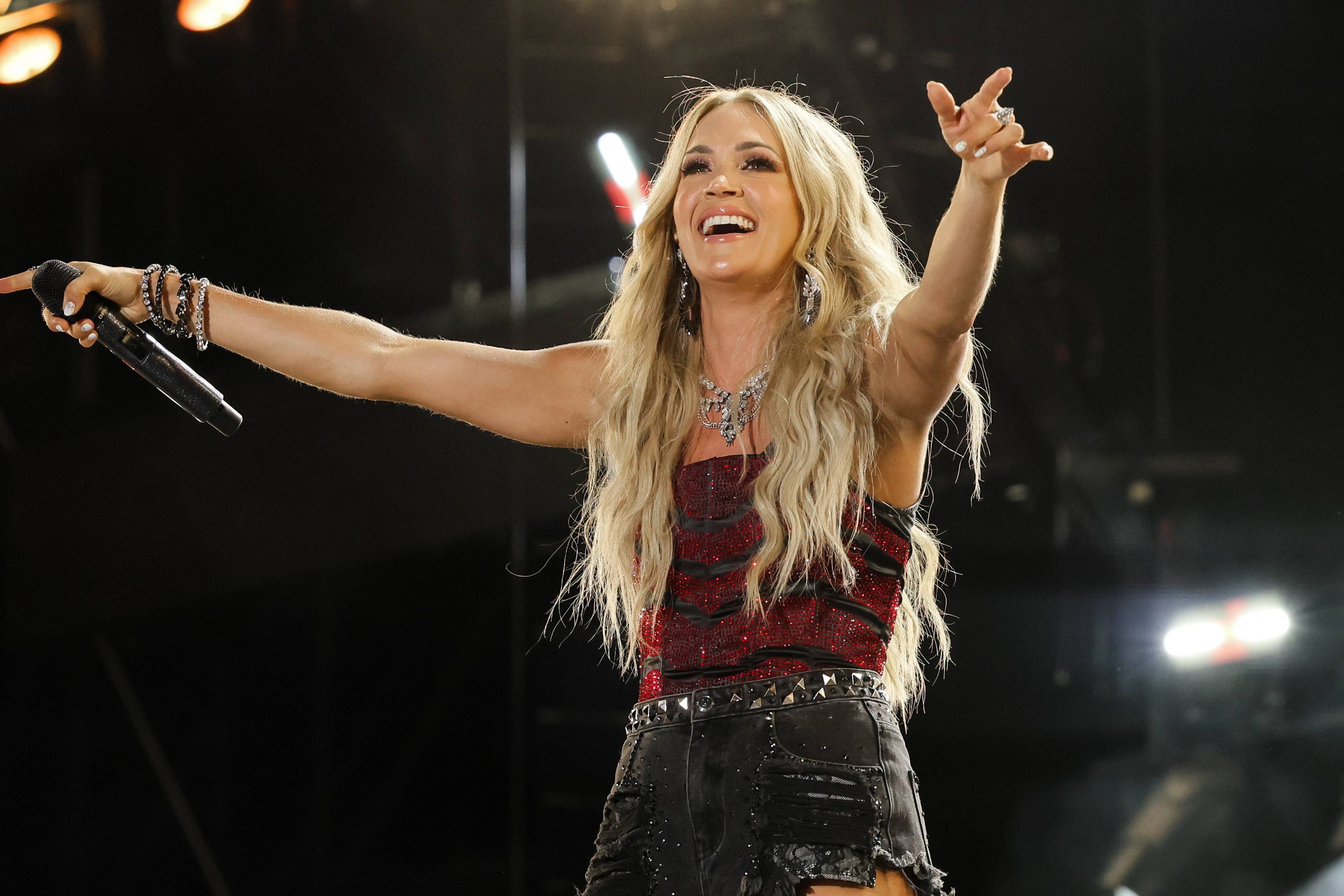 The "Ghost Story" singer turned to social media Thursday (Sept. 22) to share a snapshot from rehearsals. The black-and-white photograph features Underwood's talented band in a massive warehouse. If fans look closely, they will see the eight-time GRAMMY Award winner singing her heart out in the background. 
"The gang's all here. Are you ready?" she asked fans within the caption. 
Ticket-holders flocked to the comment section to express their overwhelming excitement for her nationwide run and with several song requests. 
"Cannot wait to see this tour!!" gushed a follower. "Give us a rock and roll medley," added another, referring to her unexpected Stagecoach performance with Guns N' Roses. 
Underwood's must-see arena tour is expected to kick off on October 15 in Greenville, SC, and will wrap her 43-city trek in Seattle, WA, in mid-March. She will bring the heat to New York's Madison Square Garden, Nashville's iconic Bridgestone Arena, and Los Angeles' Crypto.com dome. 
"Bring ya favorite shades cause This tour bout to Shine-NAY!! Denim & Rhinestones," said Allen on social media alongside a selfie with the "American Idol" alum. 
The Denim & Rhinestone Tour comes on the heels of Underwood's long-running Las Vegas residency. A portion of ticket sales from her tour will go towards worthwhile charities and organizations. 
When Underwood is not tirelessly rehearsing for the tour, she's resting and channeling her energy into her relaxing passions. The hitmaker previously (Sept.22) told Audacy that she's been gardening to escape reality and to enjoy the sunshine before the colder months sneak up. 
"One of the biggest hobbies I have that helps me unwind is gardening. I love being outside. There's so many incredible benefits to being outside and soaking in vitamin D, but then also getting to grow something," she told the outlet. "It's quiet outside, you're very in tune with nature... you're kind of alone with your thoughts. And then you get to eat what you're growing, which is also so good for your body and so good for your brain and everything in between."
Although Underwood's recent 12-song collection is addicting, the mother of two says she turns to faith-centric music to benefit her mental health. 
"When I need a mental health break, the music that I will go to would be more praise and worship music," the vocalist explained. "If I play it in my house when I'm making dinner or cleaning, it's just positive energy filling the house in the forms of sound waves. It's really nice, and it's uplifting, and it's encouraging. It reminds me that I am loved and that I am cherished and that I am a daughter of God."
Ticket's to the state-of-the-art show are still available for purchase, here.