Why Brad Paisley Wore a Carrie Underwood Jacket
Everything We Know About That Custom Collage Blazer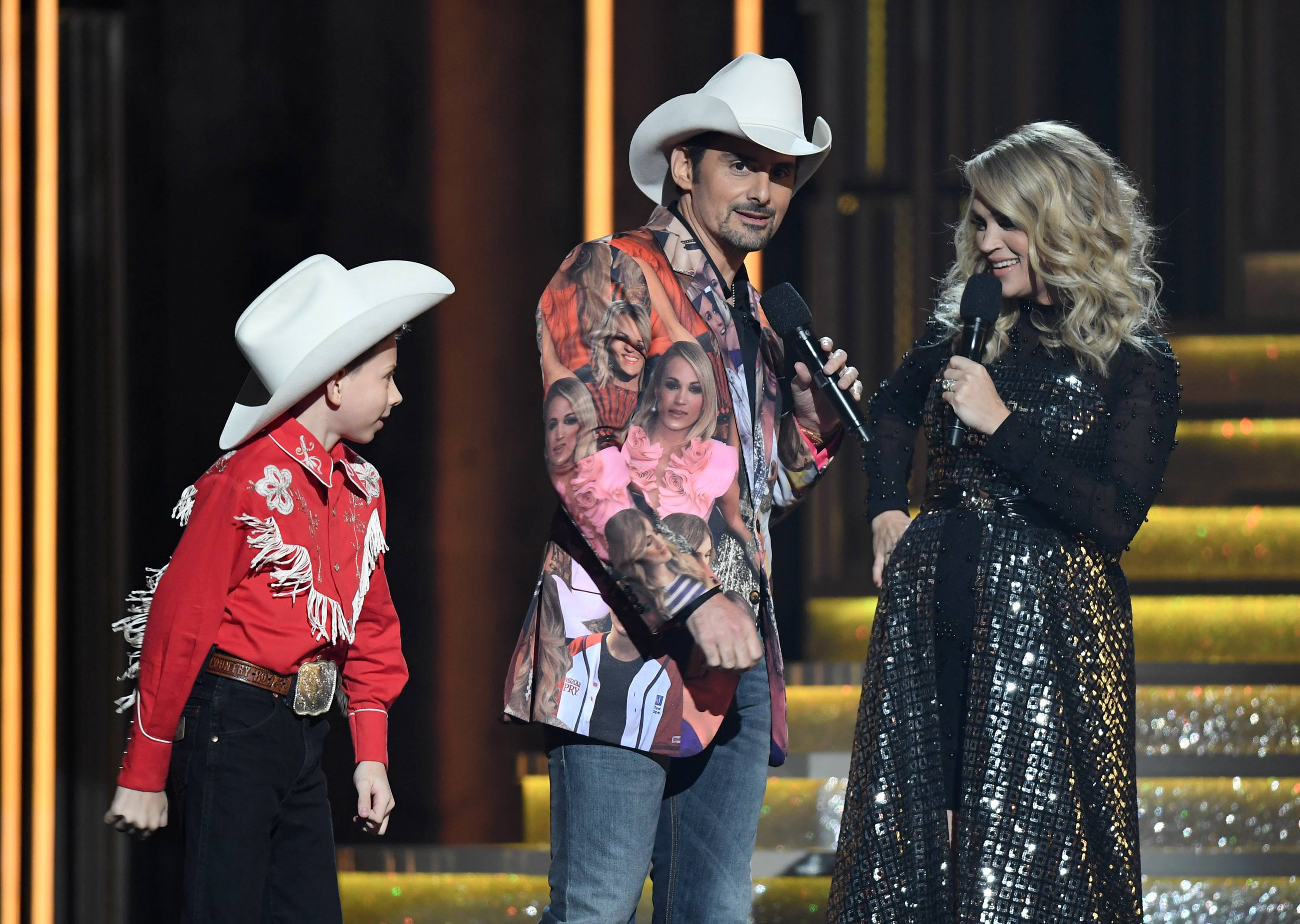 You know when Brad Paisley walked out on to the CMA Awards stage at one point on Wednesday night (Nov. 14) and he was wearing that Carrie Underwood jacket? Proving that Underwood was not the only one who could dazzle county fans with her ever-evolving wardrobe?
Well, we had to know everything about that blazer.
The man who made it, Jimbo Simmons, calls it the Coat of Many Carries. And he didn't make it for Paisley, per se. He made it because he's a fan of Underwood's.
"I love Carrie Underwood, and thought, 'Why don't I put a jacket together with a collage of her pictures," Simmons told me. The jacket is very high quality, he explained, because he makes his custom blazers using ink sublimation and they hold up nicely wear after wear.
And as it turns out, Simmons and Paisley have a mutual friend. So after Simmons made this custom blazer, he reached out to that friend with an idea: "I know they're always doing comedy on the CMA Awards, so I thought it would be funny if Brad wore this blazer and she wouldn't anything know about it," he said. "So when Brad was in concert in Lexington (Kentucky), my friend brought it to him. And said that Brad loved it. But he didn't say much more. Then a few weeks ago, he told me Brad was going to wear it on the show."
And not only did Paisley wear it on the CMA Awards stage, he shared a picture of himself in it on Instagram.
(If fans of Paisley, Underwood and/or the Country Music Association would like one for their own collection, Simmons says it would be about $500.)
Simmons has made similar blazers for Kid Rock and George Strait, but so far he hasn't found a way to get the jackets to them. But the Louisville native is happy to walk the streets of Nashville in one of his jackets and a Stetson hat. "Nashville knows me as the blazer guy. Everyone always thinks I'm someone," Simmons said. "I look like a country star, but I just can't sing."