New Details on HARDY's Bus Crash, Everyone Was Unconscious
Tanner Gallagher: "I was told numerous times by doctors that it was a miracle that we survived."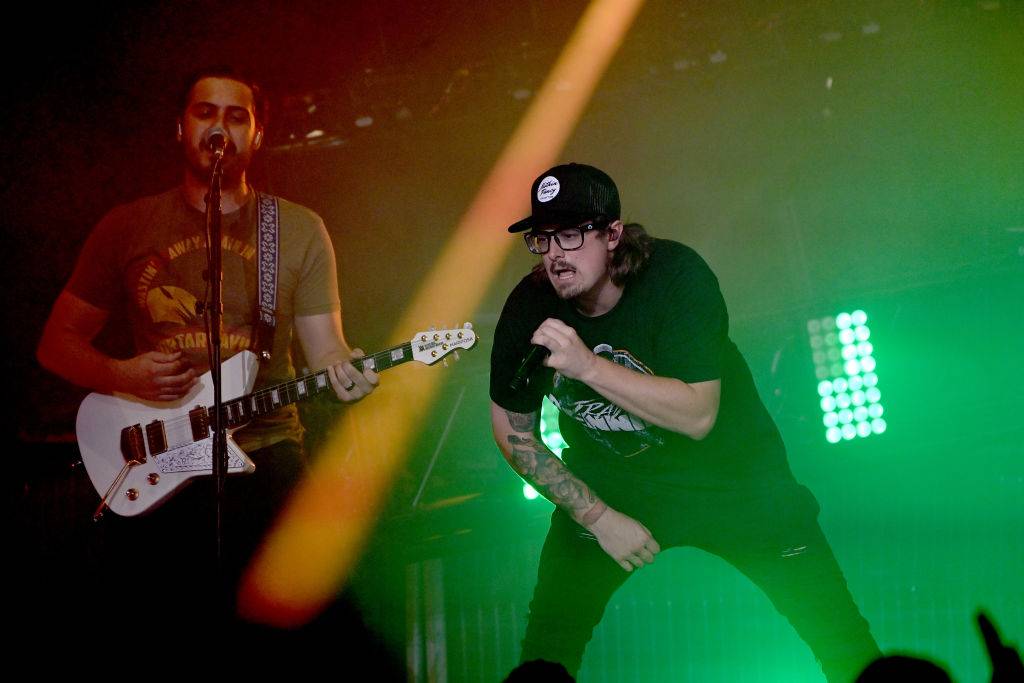 A week and a half ago, photographer/videographer Tanner Gallagher rode in the front lounge of HARDY's tour bus with the singer/songwriter on the way back from playing a show in Bristol, Tennessee. The tour manager Noah was asleep in the bunk as the bus hurled up I-40 east when the unthinkable happened. A bus crash seriously injured everyone onboard, but no one shared many details.
On Tuesday, Gallagher shared his memories of the night he was told should have killed him.
"It seems like this happened so fast, but I feel the need to talk about it officially…," he wrote on Instagram. "Last week, we had one of the most terrifying accidents happen to us."
Gallagher wrote that the tour bus ran off the highway at approximately 70 mph and flipped into the woods. There were four people on board, himself, HARDY, their tour manager, Noah, and the bus driver, Ricky.  
"Within what felt like 3 seconds, our bodies were thrown across the room knocking us all unconscious," he shared. "By the grace of God, we all survived. My injuries included a shattered foot, a punctured lung, four broken ribs, and a fractured vertebrae in my neck."
Gallagher said he was in pain, wrapped in casts and will hardly be able to move for the next few weeks or maybe months. But he wanted to point out an important fact.
"I was told numerous times by doctors that it was a miracle that we survived… and that'll make you think," he said. "I think about the times that I've spent worrying, stressed, upset, been less present, or simply took for granted, and it kills me. I think about all the people in my life, family, friends, co workers, etc. and wished that I could have spent more time with them or somehow made them feel better in moments with something as simple and little as a compliment. Most of all, I think about perspective, in that it's so easy for us to lose sight of all of the things we have."
Gallagher told readers to be thankful for everything, even if it's their health, and they can wake up every day and spend it doing what they love.
"As scary and life threatening as this accident was, I'm glad I now have a better outlook moving forward, and it's only going uphill from here," he said. "I know this accident could have been a lot worse, and for that i'm so grateful. I'm also incredibly thankful for every message, prayer and every person who helped me over the past week, it meant the world."
He said he would be in bed and a wheelchair for a while. And while he isn't upset about that, he'd be happy if someone wanted to bring him lunch "or something."
The country music community flooded his comment section with support.
"Love y'all so much. ❤️🙏🏼" Lindsay Ell wrote. 
Meghan Patrick wrote: "Thank you for this perspective and for sharing… so glad y'all are still with us 🖤"
Carly Pearce said: "Oh my god tanner sending you so much love ❤️"
HARDY chimed in with: "My mom is gonna kill you. Love you man. We are so lucky."
HARDY isn't wasting his downtime, either. The singer/songwriter revealed his second studio album, "the mockingbird & THE CROW," will be available on January 20. Three new songs, "here lies country music," "the mockingbird & THE CROW," and "TRUCK BED," are out now.
"What's up, guys? HARDY here," he said when he made the announcement. "Feeling a lot better. Um, feeling much better; still a little bit banged up, but man, definitely on the upswing. And everybody in the accident is also on the upswing. Thank you for all of your prayers. It's been a rough few days, but everybody's doing great," he confirmed in a short social media clip. "I've been going back and forth on, you know, I have a lot of big announcements I was to make. Things I want to post, and things I want to announce, and I was kind of wondering if I should push some of that to down the road. I've talked to everybody, and everybody's like, 'Man, let's keep the train rolling.'"