Amy Grant Makes Triumphant Return To The Spotlight After Bicycle Accident
Amy Grant officially kicked off her Christmas tour with Michael W. Smith, before her annual holiday residency at the Ryman Auditorium with Vince Gill.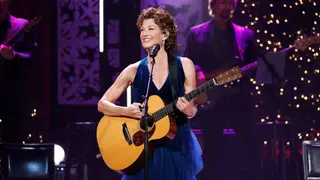 Christian singer Amy Grant has returned to the spotlight. 
Nearly four months after being admitted to the hospital for a severe bicycling accident, the beloved artist stepped back on stage. Vince Gill's wife officially kicked off her highly anticipated Christmas Tour with Michael W. Smith on Saturday, Nov. 26, in Memphis, Tennessee. 
In late July, Grant accidentally fell while cycling in Nashville's Percy Warner Park. The "Good For Me" artist was wearing a helmet but suffered several cuts and bruises. During a residency at the Ryman Auditorium, Gill revealed that Grant was "knocked unconscious for 10 or 15 minutes" and was transported to Vanderbilt University Medical Center for necessary treatment. 
The award-winning artist was required to stay overnight at the hospital for additional observations. Grant was forced to cancel and reschedule a handful of shows to focus on her recovery journey and health. While adjusting her calendar, Grant had the holiday season on her mind and solidified her plans to make her Christmas run happen. 
"On the advice of my doctors and friends who have been through similar experiences of recovery, I am choosing to give myself the gift of a very simple fall season," she previously wrote on Instagram. "I look forward to making music with Michael W. and Vince during the Christmas season," she added. 
The short hiatus paid off, as Grant delivered a strong performance and embarked on her festive trek. While sporting an eye-catching red gown and with a multi-person choir, the platinum-selling artist shared fan favorites from her latest album, "Christmas Traditions." 
Following her comeback appearance, Grant turned to social media (Nov. 27) to express her gratitude for the overwhelming support and to reflect on her experience. 
"Thank you, Memphis! After a season of healing at home, it was good to be back on stage with Michael W. Smith, Michael Tait, and my musical family," said Grant alongside an action shot. "Many thanks to @compassion, @parentingtodaysteens for your partnership on the road and for the important work you do in the U.S. and around the world. And thank you to @balsamhill for providing exquisite trees and décor to make our stage look so beautiful." 
She continued to acknowledge her devoted listeners that stuck by her side and sent well-wishes in her direction during the difficult time. 
"Finally, Thank YOU for your many prayers over the last few months and as my healing continues. I hope to see some of your familiar faces in the audience over the next few weeks. XO," Grant concluded. 
As several Fans rushed to the comments to congratulate the hitmaker for her speedy recovery, ticket-holders praised the songstress for an unforgettable evening. 
"So glad to hear you are feeling strong enough to travel and work," said a follower. "The show was perfect!! I left in the Christmas spirit and loved every song," added another. "YAYYYY!!!!!!!!!!! I could cry. I'm so happy that you're back❤️," shared singer, Shelly Fairchild. 
The must-see show is slated to go until Friday, December 9, and will wrap in St. Louis, MO. Grant will hit prestigious theaters in big cities such as Dallas, Tulsa, Indianapolis, and more. 
Following the star-studded tour, Grant will return back to Nashville for a 12-date-only residency with Gill at the legendary Ryman Auditorium. Tickets are available for purchase, here.