WATCH: Tim McGraw Shares Heartfelt Tribute To Faith Hill For Their 26th Wedding Anniversary: "To My Girl"
Tim McGraw says he asked for Faith Hill's hand in marriage multiple times before she said "Yes."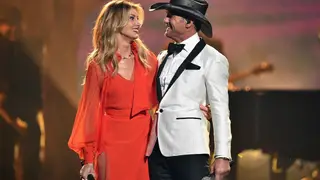 It has officially been 26 years since Tim McGraw and Faith Hill tied the knot. The "Humble And Kind" singer turned to social media early Thursday (Oct. 6) morning to wish his other half a happy anniversary. 
The country music sensation shared a montage of precious on-stage moments throughout their flourishing careers. The clip is backed by their 2007 duet "I Need You." The recognizable love song, which lives on McGraw's critically acclaimed album "Let It Go," was penned by David Lee and Tony Lane. Upon release, the ballad peaked at No. 50  on the Billboard Hot 100 chart, and the power couple scored a nomination at the 2008 GRAMMY Awards for Best Country Collaboration. 
The sequence begins with a snippet of their romantic candle-lit music video for "I Need You." McGraw included a handful of snapshots of him planting a smooch on Hill under the spotlight, simply displaying their undeniable chemistry and deep love for one another. 
"Wow, 26 years!" he wrote in the caption. "Happy anniversary to my girl!! I love you baby @faithhill." 
A-listers and members of the country community flocked to the comments to send their best wishes and congratulatory messages. 
McGraw and Hill's love story tracks back to 1994, when they first crossed paths at a Country Radio Seminar in Nashville. However, it wasn't until Hill opened up for McGraw on his Spontaneous Combustion Tour, when sparks began to fly between the two. At the time, Hill was engaged to world-renowned producer Scott Hicks, and McGraw was fresh out of a relationship with ex-fiancée Kristine Donahue. 
On their 25th anniversary, McGraw revealed that he proposed to Hill multiple times, but she kept turning him down. 
"We dated for a while, and I actually asked her to marry me quite a few times, but she kept saying 'no,'" he recalled. "She said, 'I'm not gonna get involved with another country singer. It's just not gonna work out.'" 
It wasn't until he popped the question backstage at a massive outdoor festival, that she officially agreed to the life-long romance. 
"They had these trailer houses set up. I'm getting ready to go on stage, and I had this sort of case that has this big mirror in it," McGraw explained on Instagram. "She's standing there, and we're talking, and I said, 'Look, let's get married.' And she says, 'You're asking me to marry you at a country music festival in a trailer house?' And I said, 'Well, it's pretty apropos if you think about it.' She goes, 'Are you serious?' And I said, 'Well yeah, I'm serious.'" 
In 1996 the two got married in McGraw's hometown in Louisiana. While on tour and recording the hit "It's Your Love," the two welcomed their first child. Today, the hitmakers have three daughters – Gracie [24], Maggie [23], and Audrey [20]. 
In early 2022, McGraw and Hill wrapped up their time on the Taylor Sheridan western drama "1883." McGraw played James Dutton in the Paramount + "Yellowstone" prequel, while Hill starred as Margaret Dutton. The action-packed series served as their first onscreen roles together. As McGraw works on his forthcoming 16th studio album, Hill is slated to join The Judds: The Final Tour on Saturday, Oct. 29, in Lexington, KY.