CMT Premiere: Latin-Country Artist Valerie Ponzio Releases Emotional Music Video For "Desert Rain"
Valerie Ponzio: "Describing an affair with the beauty and power of the desert is ambitious, to say the least. This video really brings all that power, beauty, and heartbreak we were looking for."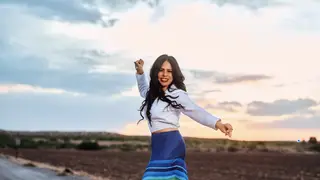 Only so many understand first-hand the unique sensation that occurs when rain makes landfall in the dry desert of El Paso, TX. Latin-country trailblazer Valerie Ponzio captures that raw feeling in her recently released the music video for "Desert Rain" while also using imagery to convey a narrative about an affair. 
Although "The Voice" alum is making waves in the country space in Nashville, she transports viewers to her southern hometown in the visually-pleasing clip. Ponzio co-wrote the heartbreak ballad alongside Danny Myrick, but turned to video producer Raul Hernandez and editor Paco Ibarra to bring the descriptive lyrics to life. 
"Desert rain|Every drop on my skin melts in| Waking up my senses | There ain't no damn shame | Lighting strikes in a reckless sky | Even if it's wrong – oh baby bring it on," sings Ponzio comparing the unexpected behavior of mother nature to her risqué side. "You're the midnight rush I've been missin' | My body begging to be baptized in it| So, fill me up with your touch, with your breath | Before it all washes away | With the desert rain." 
Hernandez not only filmed the breathtaking vistas of the Texas panhandle, but captured Ponzio slipping off her wedding ring to escape reality and feed her long-overdue desires. While sporting an eye-catching red dress, the budding vocalist makes her way to a local motel to meet a mystery man. 
The fast-rising star mentioned that she enjoyed shooting at the family-owned hotel. Ponzio explained that the employees created a safe space and treated her like country music royalty.  
"We were so grateful to the little motel on Montana street in El Paso that let us use their spot to film the rain scene in the video. They were so sweet, gracious, and happy to welcome us on the property," shared Ponzio. "The owner and his wife came to ask for my autograph and take a picture with me. They really made me feel like a country music star!"
Ponzio said she challenged herself within the "Desert Rain" music video, as she stepped outside her comfort to deliver the scandalous storyline. 
"Truth be told, it's always nerve-racking to see yourself on screen. Especially for me in this salacious scenario," Ponzio admitted to CMT. "I'm usually more reserved in my videos, but the final product really brought out all the emotions and imagery I was really hoping to convey," she added. 
While she took a different approach, she believes the creative risks were well worth it.  
"Describing an affair with the beauty and power of the desert is ambitious to say the least," she clarified. "This video really brings all that power, beauty, and heartbreak we were looking for." 
Ponzio encourages her fans to watch the music video two consecutive times because she wants them to embrace the pure beauty of El Paso and comprehend the complex emotions that the protagonist is feeling throughout the cinematic experience. 
"I hope fans can watch it twice and capture a few things. First, I hope they can feel a little of the magic of the West Texas desert backdrop of my hometown, El Paso, Texas," she pointed out. "Next viewing, I hope they'll feel the character's hesitation and weight she is feeling of the choice she is about to make as a woman who is ready to put her marriage aside for a moment of passion."
"Desert Rain," which shines a light on her angelic vocals and unmatched sound, follows her vibrant single "Just A Bordertown." The way Ponzio has pushed the boundaries of country music to enhance inclusivity within the genre has not gone unnoticed. The inspiring pioneer has scored a spot in the inaugural class of CMT and mtheory's Equal Access program. With Ponzio's significant touch on the country genre and crossover appeal, the landscape is destined to shift in the right direction. Ponzio is slated to perform alongside other fearless women in country on Oct. 12 in music city. Tickets are available for purchase, here.