Charles Esten Sets a Guinness World Record
The Singer/Songwriter and Actor's Latest Feat Will Go Down in History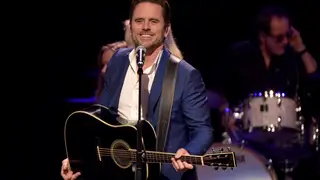 We've stockpiled our tissues in preparation for Thursday night's (July 26) series finale of Nashville, and there's no doubt Esten will have a few himself on the big night.
But there have been several highlights for Esten in the last few days on his national press tour; the most intriguing one being the Guinness World Record he just set for "Most Consecutive Weeks to Release an Original Digital Single by a Music Act."
Remember back in July of 2016 when he made the announcement promising to release a new single every Friday for "as long as it made sense?" Well, it made sense for an entire year, with his campaign, #EverySingleFriday, yielding 54 original songs that he either wrote or co-wrote, recorded and released each Friday.
"At the time, I had no idea how it would go, or how long I could do it," he said in a statement.
"I only knew that, as a lifelong songwriter, through my role as Deacon Claybourne on Nashville, I had found my way to Music City and, surrounded by some of the most talented people in the world, I was feeling a level of inspiration and creativity that needed a different kind of outlet that an EP or album."
And now that outlet has landed him a Guinness World Record title.
Esten stopped by NBC's Today show to perform "Halfway Home," a song from his record-setting campaign. He'll headline a sold-out show tonight (July 25) at New York's City Winery before taking the stage for another sold-out show at City Winery in Boston on Thursday (July 26).
But if you think he's gonna miss his final turn as Deacon tomorrow night, think again. Esten plans to pause his concert, tune into CMT and watch the series finale with fans and friends.
See, you need those tissues already don't you?
The final episode of Nashville starring Esten airs tomorrow night at 10 p.m. ET on CMT.