EXCLUSIVE: Jason Aldean Talks Healing After Route 91
Says Family and Fans Are Sources of Personal Strength (Part II of II)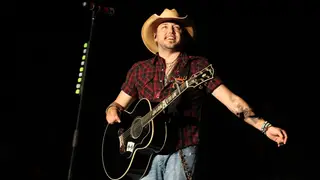 The mass shooting that happened during Jason Aldean's closing performance at Las Vegas' Route 91 Harvest Festival was a nightmare no one should ever experience.
Aldean was five songs into the sold-out event's final performance on Oct. 1, 2017, when gunman Stephen Paddock opened fire on the crowd from a suite at the Mandalay Bay Hotel and Casino, killing 58 people and injuring hundreds more, making it the deadliest mass murder in American history.
From his vantage point onstage, Aldean witnessed a massacre he will never be able to un-see again.
"It's still tough every day, and you think about it," he told CMT.com exclusively. "But you never think that's something you have to deal with, and when you do, you deal with it the best you can, try and recover and move forward."
When Aldean returns to Las Vegas for the 53rd annual ACM Awards, it will be one of his first trips back to Vegas since he visited with victims hospitalized after the shooting.
"Britt and I were there together," Aldean said, "and so her and I lean on each other for that stuff. My mom, my dad, my sister, and people like that weren't there. More than anything, we were already a pretty tight family, but I think it brought us closer in a lot of ways, too.
"Anytime something like that happens, you can always find a silver lining in it somewhere, and good things can come out of it. I think you have to find what that is."
The tragedy has also strengthened Aldean's relationship with his fans. "It's made them see me for me and more of a human other than this larger than life character. I think people have realized you go through stuff just like they do. People probably see me in a different light, which has been good."
Healing from the shooting continued on Sunday (April 1) in Las Vegas with a reverent six-month anniversary tribute to the 58 lives lost. According to the Las Vegas Sun, approximately 300 victims returned to the city to walk down the Las Vegas Strip to the festival site. Along the way, they carried orange and purple glow sticks, signifying the festival's official colors.
Organizers for the ACM Awards are planning a special tribute for the victims on the night of the show. Reba McEntire will host the telecast live from the MGM Grand Garden Arena on April 15. Aldean heads to the ACMs with two nominations for entertainer and male vocalist of the year.