WATCH: Tim McGraw Falls Into Crowd At Arizona Music Festival
The show must go on! Tim McGraw greets eager fans, after tumbling off the stage.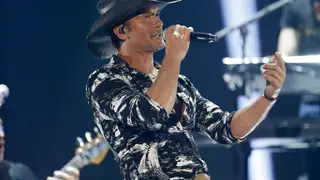 Tim McGraw accidentally fell into the arms of his loving fans over the weekend.
The country music sensation appeared (Sept. 17) at the Boots in the Park music festival in Tempe, Arizona, and took a shocking tumble off the stage. The 55-year-old was owning his set, until he suddenly lost his balance while praising his guitarist during an electrifying solo.
The hitmaker was on his knee, with his back facing the rowdy audience. When he jumped up to continue singing, he stumbled near the edge of the catwalk. McGraw attempted to stable himself, but gravity pulled him down. Security flocked to the unexpected accident to help the "Humble And Kind" singer, but he effortlessly persevered forward without missing a beat.
Once McGraw planted his feet on the ground and fixed his signature black cowboy hat, he reached over the iron barricade to interact with excited ticket-holders. Without a scratch or cut in sight, the platinum-selling artist took the time to shake hands around the pit.
A concert-goer caught the incident on camera and shared the footage on TikTok. In less than 24 hours, the clip garnered 121.5K views. Social media users ran to the comments to compliment his professionalism and ninja-like reflexes.
"Played it off like a boss," wrote a user. "I hope I'm in that good of shape when I'm older," another pointed out.
Dustin Lynch, Ryan Hurd, Tenille Arts, Frank Ray, Joe Peters, and more were also a part of the star-studded lineup. Following the incident, McGraw invited Lynch and Hurd to the spotlight to cover his 1995 classic "I Like, I Love It." As the catchy chorus echoed throughout the field, the country crooners fed off each other's energy to deliver a jaw-dropping performance.
"Legendary moment this weekend with the legend himself, @TheTimeMcGraw," shared Lynch alongside a snippet of the act. "Another great night with @bootsinthepark!! Thank you Arizona," said the icon beside a recap video.
McGraw is not the only superstar that recently fell in the public eye, as Post Malone also slipped on stage this weekend. However, the genre-bending artist had to receive medical attention in the midst of his arena concert.
McGraw previously wrapped his critically acclaimed nationwide tour with Russell Dickerson, Alexandra Kay, and Brandon Davis. The award-winning artist is slated to perform at Boots & Brews and GoldenSky in sunny California in early October, before he concludes his successful festival run. Tickets are available for purchase, here.