Shania Twain Shares Her Sexual Abuse Story And How Fashion Became Her Shield-Of-Armor
For anyone affected by abuse, call 800.656. HOPE (4673). If you're not in a safe space, text LOVEIS to 1.866.331.9474 for a domestic violence hotline.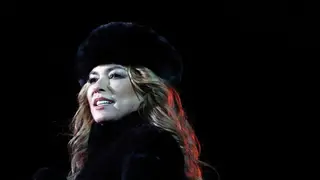 Country music star Shania Twain has fearlessly come forward to speak about the sexual abuse she endured as a child.
In a recent interview with The Sunday Times, the GRAMMY Award-winner revealed how her struggles with body image stems from her toxic association with her late stepfather, Jerry Twain. The hitmaker told the publication that the alleged abuse started when they lived together.
Jerry adopted Twain when she was only 4 years old. In her 2011 memoir "From This Moment On," the singer-songwriter goes into great detail about the father-daughter relationship that frequently left her "confused" and "baffled." Twain was one of four children, and when her parents died in a horrific car accident in 1987, she stepped in to take care of her three younger siblings.
Most recently, the singer-songwriter pointed out that their financial situation growing up and lack of food led to the abuse. During those challenging times, fashion became her saving grace and shield-of-armor.
"I hid myself, and I would flatten my boobs," The resilient songstress told the outlet. "I would wear bras that were too small for me, and I'd wear two, play it down until there was nothing girl about me. Make it easier to go unnoticed."
She continued to explain that it was difficult to be a female in her household.
"Oh my gosh, it was terrible – you didn't want to be a girl in my house," Twain clarified.
In the best-selling novel, the vocalist reflects on her challenging childhood and vivid memories of going to school hungry or Jerry trying to kill her mother. When Twain got older, her living situation altered her viewpoint on society and impacted her confidence.
"You go into society, and you're a girl, and you're getting the normal other unpleasant stuff, too, and that reinforces it," recalls Twain. "So then you think, 'Oh, I guess it's just s–to be a girl. Oh, it's so s–to have boobs.' I was ashamed of being a girl."
Once Twain was propelled into the spotlight and started performing, she struggled to accept her femininity. The "Waking Up Dreaming" artist said that individuals began calling out her actions and insecurities.
"All of a sudden, it was like – well, what's your problem? You know, you're a woman, and you have this beautiful body?" she said. "What was so natural for other people was so scary for me. I had to play the glamorous singer, had to wear my femininity more openly or more freely. And work out how I'm not gonna get groped or raped by someone's eyes. You know, and feel so degraded."
It wasn't until her mid-20s that she gained the confidence to voice her boundaries and concerns. Twain made it clear that fashion was always a constant form of protection, even when she became a star.
"By the time I had my record contracts, I was the kind of woman that…when I walked in the room, it was like, 'don't even get any closer.' It was clear in my body language. And I think maybe what young girls can learn too is to exude that confidence," she described. "I could speak and tell a story about myself, by the way I moved my body, the drape of the fabrics, the colors, where the focus was. I loved that about fashion, the fun of it, the expression. I was never an exhibitionist for the sake of, like, saying, you know, 'Look at my tits.' It was really me coming into myself. It was a metamorphosis of sorts."
Twain's self-assurance and perspective on life will shine through on her forthcoming record "Queen Of Me," which will be released on Feb. 3.