Eric Church: "It's Been a While"
White Vinyl Arrives in October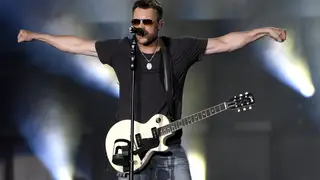 You know that line in Eric Church's "Mr. Misunderstood," when he sings that while your buddies get their rocks off on Top 40 radio, you love your daddy's vinyl, old-time rock 'n' roll, like Elvis Costello, Ray Wylie Hubbard and Jeff Tweedy?
Church isn't the first artist to name-check his musical heroes in a song, but this time, he's taking things to the next level with Hubbard, the iconic Texas outlaw.
Church and Hubbard collaborated to write the title track from his upcoming Desperate Man album, due out in early October. In the song -- a contemplative Southern rocker -- Church paints a picture of a man willing to try anything before he just accepts his fate. So when the fortune teller tells him he has no more last chances and no future at all, he ain't listening to the black-hearted gypsy. Church and Hubbard have played together before, like the time in 2017 when Church brought Hubbard onstage for a guest appearance at one of his Dallas shows.
In a homemade video Church released on Thursday (July 12), he shared the news with his fans.
"It's been a while," Church says. "I just want to say I have missed you. I have good news: the album is done, and we are back. It's called Desperate Man and the first single is called 'Desperate Man.' Just like last time -- just like Mr. Misunderstood -- if you're in the Church Choir, on Oct. 5 you're going to get the album."
That album will be pressed on white vinyl, and his fan club members will receive that along with a CD. But those interested in hearing "Desperate Man," right now must register to join the Church Choir.
"I look forward to seeing you on the road. I'm very proud of this album. See you soon."
Church's next tour stop is on July 21 in California.