RECAP: Kenny Chesney Launches Stadium Tour, Says "It's a tsunami of love and energy sweeping right over us"
Kenny Chesney's stadium tour includes more than 40 stops and will stretch through August.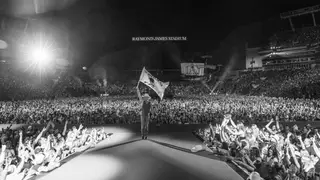 "After four years, we were together again -- and we were going to squeeze every last drop and bit of passion out of every single song," Chesney said in a statement.
Chesney's Here & Now 2022 tour stretches through Aug. 27 and includes 40 stadium concerts.
The Luttrell, Tennessee, native kicked off the night with a seven-minute version of his hit "Beer in Mexico" and followed it up with "Reality," "Til It's Gone" and "Here and Now."
"It's a tsunami of love and energy sweeping right over us...," Chesney told the crowd.
His band, complete with new drummer Nick Buda and guitarist Danny Rader, backed him up on his cleaner stage with new, cutting-edge video, as he ripped through "Out Last Night," "Knowing You," "Somewhere with You" and "How Forever Feels."
The audience helped him sing "Summertime," "Pirate Flag" and "I Go Back," but truly tookover "American Kids."
"I knew it was going to be good," Chesney said in a statement. "But this was other level stuff – the way they filled the stadium with light from the moment 'Anything But Mine' started, the way they pushed back 'Noise' like they were singing for their lives, the relief and reassurance," Chesney marveled after the show, "I could hear it in their choruses of 'Everything's Gonna Be Alright.' If music holds people together, it also brings them together – and lets them release so much of what's locked inside."
Chesney's set was two hours and 15 minutes of hit songs and memories made.
View this post on Instagram
Other stops on his stadium tour are:
RUOFF HOME MORTGAGE CENTER
CYNTHIA WOODS MITCHELL PAVILION
VETERANS UNITED HOME LOANS AMPHITHEATER
LAKE TAHOE OUTDOOR ARENA AT HARVEYS
LAKE TAHOE OUTDOOR ARENA AT HARVEYS
HAYDEN HOMES AMPHITHEATER
HAYDEN HOMES AMPHITHEATER
FORD IDAHO CENTER AMPHITHEATER
EMPOWER FIELD AT MILE HIGH
MERRIWEATHER POST PAVILION
ST. JOSEPH'S AMPHITHEATER AT LAKEVIEW