Recap: Trisha Yearwood, Mickey Guyton and Leslie Fram Honored at Hometown to Hometown Event
Cindy Mabe on Mickey Guyton: "I would take a bullet for this person. She is the heart and soul of this company that we're building."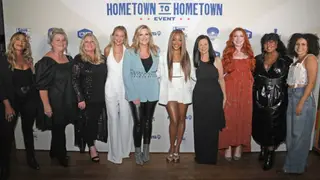 CMT's Leslie Fram and country singers Trisha Yearwood and Mickey Guyton were honored by Save The Music and SongFarm.org as 2023 Champions of the Year this week in an event at City Winery in Nashville that included performances by Kelsea Ballerini, Madeline Edwards, Caylee Hammack, Karen Rochelle, Brittney Spencer and Leslie Satcher.
"I'm a school teacher's daughter and grew up in a small town with a very almost non-existent music program, so the value of music in my own life and knowing the value of putting it in schools for kids to discover, it's such a good cause and such a good program, and I'm honored to be a part of it," Yearwood said.
All funds raised from this year's "Hometown to Hometown" event will support music technology programs in under-resourced high schools in Nashville, Georgia and Texas. Over the last two-and-a-half decades, Save The Music has donated more than $70 million in instruments and music technology equipment to more than 2,500 public schools nationwide. Monday night raised more than $200,000 to benefit music technology programs in public high schools.
CMT's Cody Alan and Rissi Palmer hosted the event in which each honoree invited two musicians to perform on her behalf. Yearwood, Guyton and Fram sat in front of large photos of themselves on stage and chatted about their backgrounds, the artists honoring them, and the importance of music education.
"I met Leslie when I was 19, which is now a decade ago," Ballerini said before the show. "So not only do I feel like she has been a pillar, mentor, and a champion for me over the last 10 years, but I've gotten to watch her be a pillar and champion for so many people. I just feel like she's someone who not only says the right thing but does the right thing. There's a handful of people in Nashville where they could ask anyone to honor them, and they'd drop everything and do it. Leslie is one of those people."
Edwards agreed, saying that Fram had been a part of her journey in Nashville from the very beginning.
"Before I was signed to a label, she was making sure that Madeline Edwards gets put into the right light in Nashville," said Edwards, who played her song "The Wolves" for Fram. "I owe her a lot. I know I'm supposed to be honoring her tonight, but it feels more like an honor to me to be asked to sing for her and get to explain the story of what she's done for me over the last two years. I'm going to spend the rest of my career showing her appreciation."
Chair and CEO of Universal Music Group Nashville called Mickey Guyton her hero. Guyton has struggled for her breakthrough moment in Nashville for more than a decade and was willing to lean into any trend to make it work. She nearly lost herself in the process. Country radio didn't embrace women or people of color for many of those years, which made Guyton's efforts futile. Her breakthrough moment came during the pandemic with her song "Black Like Me," which Spencer sang during the show. Lyrics include: It's a hard life on easy street| Just white painted picket fences far as you can see| If you think we live in the land of the free|You should try to be black like me.
"I would take a bullet for this person," Mabe said of Guyton. "She is the heart and soul of this company that we're building. She came in in 2011, sang acapella, and we signed her on the spot because she's that damn good. We never do that. She came out at a time when big singers were not in style. The 10-year town turned into more than that for Mickey. So when you talk about persistence, showing up, and not going away, I can talk about the person that I signed back in 2011 and watch the person she became. We had no idea what we had in 2011. The world shifted on us, and this girl found her voice."
Guyton openly cried on stage.
"What Mickey represents is everything," Mabe continued. "She opened doors to what country music is."
Guyton took the microphone and made a powerful speech.
"You bringing up someone's name in a room is not going to stop you from having the success you're supposed to have," Guyton said. "It's so important to all of us to pay us forward. Every time you choose to not give that woman an opportunity, you are continuing the problem. It is so important for every one of us in here to be the change. It has to happen. It's so important to continue this path and this journey."
Yearwood said the event made her want to be a better person.
"There's been so much said tonight, and the person I like to talk about the least is me," she said. "I've been so inspired tonight. When I go to an event where someone else is being, I always leave thinking, 'Man, I want to do better.' It's easier to get braver when you get older because the filter drops. I'm 58 years old, what are you going to do? Not play me on radio? It's a little easier to say this is who I am, and this is how I feel. I'm doubly proud of this next generation for just owning their truth now. It's going to serve (you) well. And by the time you get to be my age, who knows what you'll be saying out loud."