Megan Moroney: Country Music's Emo Cowgirl Talks Broken Hearts, Songwriting And Earning Respect
Megan Moroney was going to be an accountant, but chance encounters with Chase Rice and Kristian Bush set her path to country stardom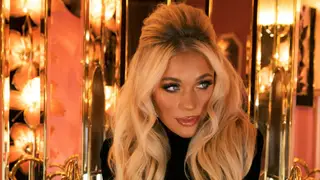 The thermometer dipped below freezing in Nashville, Tennessee, on Jan. 31 when Megan Moroney pulled on a black hoodie, leggings and platform Uggs. She reached for a bright orange trucker hat and made her way to Blackbird Studios to meet the band and her producer, Kristian Bush, to record additional tracks for her debut album, "LUCKY."
Her long hair hung down her back, and she wasn't wearing a drop of makeup. Moroney was fresh-faced, focused on nailing her songs, and not at all concerned with maintaining an Instagram-ready appearance.
She wants to be known first for her songwriting, she said, leaning back in a rolling office chair with her hands clasped in her lap. While Moroney has a carefully cultivated Instagram feed full of metallic dresses, blonde beach waves and luxurious eyelashes, she also has a keen mind for songwriting. She co-wrote her debut single "Tennessee Orange," which went viral, triggered a frenzy among record labels scoring her a dream of a deal and paved the way for her Grand Ole Opry debut. She's one of CMT's Next Women of Country. The song's video earned her her first CMT Music Award and her first awards show performance. "Tennessee Orange" accumulated 190 million global streams and became a Top 10 hit on country radio hit the week her album "LUCKY" was released.
"I picked these songs because each one tells a different story," she wrote on Instagram. "Prepare to feel all the things because there's a little bit of everything. There's no denying there's a lot of hurt on this record, but nothing has healed my heart the way songwriting has."
Moroney, who coined the phrase emo cowgirl, co-wrote each of the 13 songs on her album alongside some of the most respected songwriters in Music City, including Jessie Jo Dillon, Luke Laird, Lori McKenna, Rodney Clawson and others. "LUCKY," which is available now, includes popular titles "I'm Not Pretty," "Girl In The Mirror," "Traitor Joe," and her signature hit "Tennessee Orange." Moroney remembers with disdain when a journalist questioned her talent, implying she was too pretty to have penned her songs. She looked up the article on her phone and read it out loud. (The journalist says the comments made were misunderstood.)
"People were saying, 'I'm not writing with her because she's too pretty,'" Moroney recalled. "So there's this thing about, 'There's no way she can actually write a song.'"
To prove them wrong and work her way into rooms with hit songwriters, Moroney showed up to every songwriting appointment with several half-written songs and asked her fellow creatives to choose the one they wanted to finish with her.
Ben Williams was her first co-write and seven of the songs they crafted together made "LUCKY" – including "Tennessee Orange."
As the studio band recorded tracks behind her, Moroney explained her life in the spotlight looks much different than she anticipated. She thought she was going to be an accountant – a profession she chose because accountants are well-paid.
"I like nice things," she said. "So, if being an accountant is what I had to do, that's what I was going to do. But it's wild hearing crowds of people sing something I wrote, and when I wrote it, I didn't even know if it was good."
Moroney's journey to Nashville's "it girl" inadvertently started at a sorority party at the University of Georgia, where she studied accounting. She grew up singing with her dad and brother, learned to play "Strawberry Wine" on guitar when she was 17, and started posting covers of country songs they sang together on social media. Her sorority booked country singer Jon Langston to play their philanthropy event in the spring of her first year. The sorority used its entire budget on Langston and didn't have money for an opening act. She agreed to get up and play a few cover songs. Chase Rice was in the audience and saw her sing.
Rice approached her after the show and asked her to open for him a month later at the nearby Georgia Theater. But there was a caveat. He didn't want her to sing a set of covers; she had never written a song. Rice told her she had to – so she did. She played the show with her dad and brother and considered it her first real gig.
She returned to UGA and changed her major from accounting to marketing, digital marketing and music business.
"I saw Chase the other night and was like, 'You're responsible for my music career,'" she said. "He was like, 'I'm so sorry for giving you a lifelong career of depression and alcoholism."
While Rice might have pushed her into songwriting, Kristian Bush (of Sugarland) recognized her gift, helped her find her sound and introduced her to her now manager, Juli Griffith. Moroney was Bush's intern at his recording studio in Atlanta. She didn't tell him or his brother, Brandon who often performs with him and runs the studio, that she was a singer/songwriter until after she finished the internship.
"She didn't even tell me; she told Brandon," Kristian Bush said. "Brandon brought it to me. Her voice and phrasing struck me. I remember asking myself, 'Is she controlling that or not?'"
Bush remembers an A&R person telling him that true talent could be identified if the singer had a voice that could be recognized blindly, without looking at their face.
"Jennifer Nettles has that," Bush said of his Sugarland duet partner. "Andrew Hyra (his partner in Billy Pilgrim) has that. And Megan Moroney has that."
Moroney graduated from UGA in May 2020 and moved to Nashville in June. Moroney didn't write much in college because she was a serious student, but until she got her heart broken during her junior year, she didn't have much inspiration. She started writing as therapy about the same time she began interning for Bush and his brother Brandon Bush. When she moved to Music City the first summer of the pandemic, everything was closed; she knew very few people and didn't have a co-write until December. When she met Ben Williams on Zoom at that first appointment, their creative chemistry proved worth the wait. Williams has credit on "Tennessee Orange," "I'm Not Pretty,"  "Another On The Way," "Traitor Joe," "Sleep On My Side" and "Mustang Or Me."
Griffith said COVID turned into a bit of a blessing because she was able to schedule songwriting appointments over Zoom. She wasn't comfortable sending men to Moroney's house to write, and the pandemic was the perfect reason not to.
Moroney and Bush recorded the EP in January of 2021. When they first entered the studio, Bush was impressed when Moroney expressed an understanding of song order much greater than her experience. She dictated release dates specifically to tell a story and insisted "I Love Me" appear on her EP "Pistol Made of Roses," so it came out before "I'm Not Pretty," which is on "LUCKY." He was also surprised when she wanted the music on the song – the follow-up digital release to "Tennessee Orange" -- to be reminiscent of Jack Johnson. The lyrics, he said, are straight from her.
"When you get to the end of the hook, if you're really paying attention, what the lyric is saying is, 'Whatever you need to tell yourself, go ahead. Tell yourself I'm not pretty,'" Bush said. "You're dealing with a lyric that is a psychological scar of almost every girl – 'Am I pretty or not pretty?'"
Bush explained that what is interesting is Moroney is giving the lyric to the mind of the next girlfriend.
"She's not even saying it herself," he said. "She's having the other girl say it, which is an even tighter tightrope to walk. I don't think a man could have ever thought of that idea."
Bush said she's doing something that's sitting in front of everyone, and no one is talking about it.
"In my experience, female artists are having to communicate their truth in a landscape that really only wants it to be one of three things," he said. "And your truth is 30 things."
Griffith remembers Moroney asking if she should get on TikTok and the singer's fear she'd be labeled a "TikTok artist." They opted to take advantage of the platform anyway, posted her song "Wonder" in February of 2022, and it "blew up," they said.
"Pistol Made of Roses" came out in the summer of 2022 and "Tennessee Orange" followed soon after, even though it wasn't on the EP. Spotify requested Moroney participate in a project for them, and they needed a song by a certain date. She had written "Tennessee Orange" in April of 2022, and it was August.
"I was like, 'That would be good; it's football season, right?'" Moroney said.
They had 24 hours to record the vocals, get it mastered and upload the song. Moroney made the cover art herself. "Tennessee Orange" was released on the first important weekend of football season in 2022.
She had five offers for record deals before "Tennessee Orange" came out. She put them off.
"I felt like we had a good thing going on, and I didn't want anyone to slow me down," Moroney said.
"At that point, there was still a serious question of do we need a record label?" Griffith added.
When the time came to sign with Sony Music, Moroney admitted she was still scared to do it.
"Even after the deal was like a great, great, great deal, I'm still like, 'No, no, no, no, no,'" she laughed.
"I'm like, 'Sign that piece of paper and we go to radio tomorrow,'" Griffith said. "It was a great deal five negotiations ago, and by that point, we had negotiated the shit out of it."
When they chose Sony, 17 other labels had offered Moroney deals.
Moroney said she believes "100,000 percent" they made the right decision.
"I tell everybody I can't even process it," she said of her success. "I don't have time. Every day there's something that I have to do all day. If I had time to sit down and think about how many streams it actually is, it would freak me out."
A few weeks after the recording session, Moroney made her Grand Ole Opry debut. She said she'd never been more nervous and started crying as soon as she stepped into the Opry's famous circle.
"It was definitely as magical as everyone says it is," she explained.
About five months after the initial studio interview – Moroney has completed her first headlining tour, is on the road with Brooks & Dunn, has a Top 10 country radio hit and is celebrating the successful launch of her first album.
"I couldn't have even dreamed to be in this position because that's not something that I ever even dreamed I could do," she said.
Bush said Moroney's songwriting sense and business savvy remind him of another young singer/songwriter he's worked with.
"Her knowledge of the way the internet presents her is spot on," he said. "I remember when Taylor Swift was that way."