Dan + Shay Talks 10 Years Together And How They're Making Their Best Album Yet
Shay Mooney: "We're going to make the album that we want to make ... and not try to be anything other than just unapologetically Dan + Shay."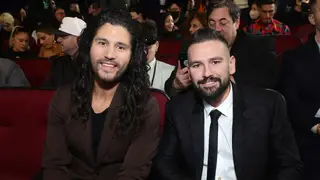 Dan + Shay are marking a decade as a duo this year, and by the time 2023 is over, the pair thinks they'll be celebrating with new music.
"We're nearing the end of this yet-to-be-announced album," Dan Smyers told  Audacy's Katie & Company. "It's been a few years in the works. We don't quite have all the details yet. We're ironing them out as we go, but it's definitely our best yet."
Dan + Shay's current single "You" is a Top 5 and is on track to be the duo's next No. 1 song. The up-tempo love song is from their "Good Things" album they released in 2021. However, Dan + Shay released their first single from the album on Oct. 4, 2019 – "10,000 Hours." From that perspective, it's been nearly four years since Dan + Shay has had a new collection to work from.
"We're so proud of it, and I'm just so excited to get this out there to the people," Smyers said. "We're going to have new music by the end of the year, and I'm fired up for it."
Shay Mooney said he could speak for both of them when he said they're having the most fun they've ever had working on an album. Typically they had only a few months to complete the album-making process. This time, they've been able to "dive all the way in" and craft a cohesive project.
"We're in this really cool place in our life right now, where I think we've redefined what we see success as," Mooney continued. "We've kind of thought of this project as, 'We're going to make the album that we want to make and speak from our heart, sing what we know and not try to be anything other than just unapologetically Dan + Shay.' What that means now is very different than it was a few years ago. It's just really exciting."
The father of three said he and Smyers are closer than they've ever been. 
"Getting this project out there is a win for us," Mooney said. "We're finding so much joy in the process of creating this album and the memories that we've made over the last 12 months. I'm so excited about every song we've made. It's a really fun era."
The duo is also planning to tour in support of the project. Their 2020 headlining arena tour launch fell victim to the pandemic, and the men are looking forward to mounting a new headlining tour with no worldwide health crisis on the horizon.
"We've had such great support along the way and accomplished a lot of dreams and crossed a lot of things off our bucket list," Smyers said. "We're having fun with the process and writing songs we want to write and recording songs we want to record."
Smyers said he's still making very minor tweaks to the project but that if it all accidentally leaked out tomorrow, he'd be OK with it.
"This album is definitely our best work," he said. "We've poured the most into it."