Happy Birthday Dolly Parton! See Tim McGraw, Alan Jackson and More Pay Tribute
Dolly Parton is 76 years old today!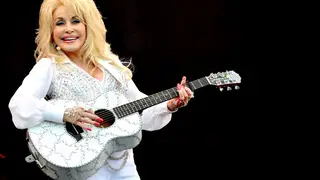 Country music icon Dolly Parton is celebrating her 76th birthday today and country stars came out in force to share their memories and wish her a great one.
McGraw found a particularly funny clip of himself chatting with Parton on his Apple Music radio show from a while back and couldn't resist sharing it.
They were chatting about her acting career and how she fell into characters. Parton told McGraw she only took parts close to her own personality.
"Although, I made a better whore than I made a secretary," she quipped at McGraw, referring to her role in "Best Little Whore House in Texas."
Reba McEntire said: "Happy birthday @dollyparton!!! I will always love you. Hope you're taking the day off from workin' 9 to 5! 🦋💖✨ #happybirthdaydolly"