Kelsea Ballerini Releases Surprise EP And Mini Movie, Calls "Rolling Up The Welcome Mat" Her "Healing Journey"
The "Rolling Up The Welcome Mat" film debuted on YouTube at 12 a.m. and will air commercial-free on CMT during the 8 a.m. ET hour Wednesday.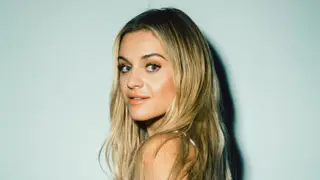 At midnight (ET) on Valentine's Day, Kelsea Ballerini dropped a surprise six-song EP and accompanying short film that seems to provide some insight into the unraveling of her near five-year marriage to fellow country singer Morgan Evans that officially ended in November.
"Rolling Up The Welcome Mat" sounds like a detailed diary depicting doubt, two people growing apart, loneliness, resolution and awakening. The East Tennessee native wrote or co-wrote every song on the album. Then, Ballerini wrote and directed, alongside co-director Patrick Tracy, a dramatic 20-minute film that portrays the intense emotions, understanding and acceptance that went into "Rolling Up The Welcome Mat."
"here's my healing journey," Ballerini wrote on Instagram. "here's my heart. here's my truth. i've never been this open, i've never been this bold, and i've never been this proud of my art. so with love and respect, i'm rolling up the welcome mat. six song story and short film out now. happy valentine's day. ❤️‍🩹"
 The "Rolling Up The Welcome Mat" film debuted on YouTube at midnight and will have a commercial-free broadcast premiere on CMT during that 8 a.m. Eastern hour. While the film feels deeply personal to Ballerini, she wrote the songs and the movie in such a vulnerable way that it leaves room for fans to find themselves and their heartbreak in the scenes and lyrics.
"I wasn't worried about anything other than presenting the songs as honestly as possible," Ballerini said in a statement. "Most of them started with me and my guitar."  
She teamed with frequent collaborator Alysa Vanderheym, and the pair co-produced and co-wrote three songs on "Rolling Up The Welcome Mat." Ballerini wrote the other three songs alone.
"I was writing by myself for most of the project, and it was nice to trust myself again," she said in a statement. "The only way I've been able to handle my life since I was 12 was to write about it. Ironically, I started writing music because my parents got divorced; that was my therapy. Rolling Up The Welcome Mat was how I processed everything. It's the way I got my feelings out of my body and heart and put them to music, which is the purest way I could've handled it."  
Ballerini is gearing up for a sold-out UK tour that starts February 22. When she returns to the United States, Ballerini will launch the second US leg of her HEARTFIRST Tour, which launches March 6 at History in Toronto, ON. In addition, Ballerini will co-host the CMT Music Awards 0n April 2, and she'll spend this spring on Kenny Chesney's I Go Back Tour.