CMT Roundup: New Music From Runaway June, Levi Hummon with Cassadee Pope, Jimmie Allen with Cheat Codes and more
Keith Urban, Russell Dickerson, Lainey Wilson and more are also included on CMT's Roundup playlist posted in this story.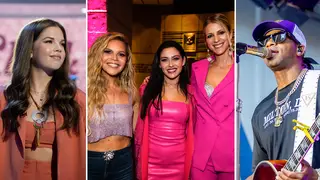 The weekend before Halloween has proved to be anything but frightening for country music fans with new music out from the genre's biggest stars including Keith Urban, Lainey Wilson, Russell Dickerson and Jimmie Allen along with new offerings from the country's brightest up-and-comers including Callista Clark, Runaway June and Levi Hummon with Cassadee Pope.
Runaway June, "Broken Hearts (Do Broken Things)": The acoustic guitar-driven, groovy mid-tempo about questionable decisions one makes when brokenhearted is the perfect, infectious introduction for Runaway June's new line-up -- founding member Jennifer Wayne along with Natalie Stovall and Stevie Woodward. Written by Mandi Sagal, Steve Fee, Sarah Lake, the song showcases the trio's harmonies, sassy vibe and relatability with lyrics about the extreme things people do when their hearts get hurt.
"We all know that feeling of getting your heart broken and going out and doing some questionable things, so we wanted to make 'BROKEN HEARTS' feel as supportive and inclusive as possible," says Woodward, Runaway June's newest member. "Whenever we play that song live we see the groups of girls out in the crowd dancing and going crazy, acting out the lyrics," Stovall adds. "That's exactly what we want from all our music – for people to hear it and let loose and have so much fun."
Levi Hummon and Cassadee Pope, "RSVP": A melancholy, melody-driven, mid-tempo about the what ifs over an ignored party invitation. One person invites. Another is afraid to come out of fear of getting hurt. The song, written by Hummon, Eric Arjes and Pope, tells each person's perspective through the lens of disappointment and moving on.
"I have been a fan of Cassadee since her 'Hey Monday' days," Hummon said. "I had our write circled in my calendar for months, and even though we had a few reschedules, the day the writing session took place with my producer, I knew I wanted to write a duet. It's not often that you come out of a room having accomplished the exact goal of the write, but we did, and both Cassadee and I knew how special the song was. I can honestly say this is one of my favorite songs I've ever been a part of, and I cannot wait for the world to hear it."
Cheat Codes And Jimmie Allen, "Lose You": Platinum-selling electronic trio, the Cheat Codes are dabbling in the country music world and called in their favorite cowboy Jimmie Allen to bring his honky tonk flair to their new single "Lose You." The mid-tempo track is not your typical love song, as it includes a refreshing sound that pushes the boundaries of traditional country. The group of producers and DJs Trevor Dahl, Matthew Russell, and KEVI perfectly blended their signature dance beats with Allen's soulful voice – making a playlist-worthy banger destined to be on repeat.
"We had been following Jimmie for a while and love that he's not afraid to be himself. He has such a rock star style and sound, but he's one of the most down-to-earth guys," shared the genre-bending band. "I've been a fan of Cheat Codes for a while. They did a song with my friends Lee Brice and Lindsay Ell, and the co-writers of 'Lose You' are friends of mine – Nick Bailey and Levon Grey. Man, I get to work with Cheat Codes and do a song written by two of my friends? I'm all about it! We're just glad for the song to be out for the world to hear it."
"Lose You" comes on the heels of their massive collaboration "I Remember" with Russell Dickerson. The hit-making threesome, best-known for their smash "No Promises" featuring Demi Lovato, are gearing up to drop a star-studded country album titled, "One Night In Nashville – Presented By the Cheat Codes." The highly anticipated project is slated to be released in late January 2023.
Callista Clark, "Please Come Home For Christmas": Although Halloween is just around the corner, breakout star Callista Clark has already jumped to Christmas. To kick off the holiday season, Clark placed a twist on the Christmas classic, "Please Come Home For Christmas." The rendition displays her impressive wide range, flawless riffs, and a country-soul side of Clark unfamiliar to fans.
"My grandparents own a Christmas tree farm so it has always been a big holiday for me and my family. I love that with this release, I kind of get to be a part of a lot of other families' holiday and share my love of Christmas with the world," explained Clark. "I grew up listening to Classic Rock which is probably why 'Please Come Home For Christmas' has always been my favorite—it gives me that feeling of listening to classics on vinyl."
Not only does the cover prove that she is wise beyond her years, but showcases her timeless vocals and promising future in the genre. The chilling cover follows her critically acclaimed debut album "REAL TO ME: THE WAY I FEEL," produced by Nathan Chapman.