Last Weekend's Greatest Hits
The Best Posts You Might've Missed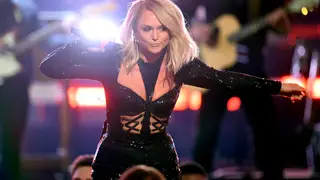 Our whole world was all about the ACM Awards last weekend. I mean, sure, some country artists posted about some other things. Like Brad Paisley, who thanked everyone who is supporting his charity grocery store. But if you spent any time on social media, you would've seen posts on everything from the glam sessions that were underway before the show to the after-after-after parties going on all over Las Vegas late into the night.
Carrie Underwood was up all night, but not in a casino kind of way. Maren Morris took fan questions while she was prepping for the show. Kacey Musgraves was honored to be a powerful femme fatale. Keith Urban shared his date night selfie with Nicole Kidman. Miranda Lambert explained the difference between a hit on the radio and a hit in real life. Brothers Osborne took Lil Nas X's hall pass to country music away. Chris Janson was suddenly famous in a small town. Lady Antebellum were unsuccessful trying to get intel on Game of Thrones. Kane Brown opted out of the essential Vegas all-nighter. Kelsea Ballerini watched the show old school. Carly Pearce poured her soul (and some sweat) into a cycling class. Morgan Evans came thisclose to making the Backstreet Boys a foursome. And Cole Swindell's golf foursome turned into a sevensome.
Oh, and did Florida Georgia Line just become the Long-Haired Bash Brothers?