CMT Roundup: Kameron Marlowe, King Calaway, Brooke Eden and More Release New Music
Find CMT's new music playlist The Roundup with songs from Lauren Alaina and Lainey Wilson, Carrie Underwood, Gabby Barrett and more in this story.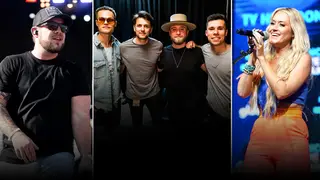 Artists including Miranda Lambert, Gabby Barrett, Kameron Marlowe, Colbie Caillat and more launch CMA Fest weekend with an assortment of new songs today. While country music fans in Nashville will likely have the opportunity to hear them in person if they catch their favorite artists shows, everyone else can hear them on CMT's playlist The Roundup.
Miranda Lambert with Leon Bridges, "If You Were Mine": "'If You Were Mine' is out now," Lambert said. "I wrote this song with @telemitry and @ashleymonroemusic specifically for @leonbridgesofficial. If he hadn't wanted to cut it, I wouldn't have released it. So glad he said yes and that it's here."
Gabby Barrett, "Glory Days": "This song means so much to me and is about all the little things that make my life so full," Barrett said. "These are my 'Glory Days,' and I'm so excited to introduce my sophomore album with it."
Kameron Marlowe, "I Can't Lie (The Truth Is)": "'I Can Lie' is a song about a toxic relationship that talks about the battle of loving and hating someone who's just not good for you," Marlowe said. "When people hear it, I want them to be taken back in time to the 1970s when western outlaw country was taking over."
Brooke Eden, "Outlaw Love" EP: "From the fear that comes from being in a secret relationship to the joy of fully embracing love, Outlaw Love takes you on a journey of owning your power," Eden said. "I hope these songs empower you to live your life out loud, even if it makes you an outlaw."
Tiffany Woys, "You Think You Know Somebody": "Sometimes there aren't words to describe how you feel," Woys said. "That's when music says what you can't. I've always loved this song recorded by Hunter Hayes. I just didn't know it was going to apply to me one day. So thankful to have recorded my rendition. I hope to give it a new life."
King Calaway, "Tennessee Waiting": "It's been four years now since the release of our debut album; in that time, we've experienced a lot of change and growth as individuals and as a band," King Calaway said. "Our style and approach to music has evolved. We became stronger songwriters and performers, and we've finally made Tennessee feel like home. It felt right for us to name this record 'Tennessee's Waiting' because of the connection we've made to our new home and the communities within. This album tells our stories the best way we can, and we're excited to finally share it with the world."
Colbie Caillat, "Pretend": "I wrote 'Pretend' when I was reminiscing the good parts of my last relationship and wanting to pretend we were back together so I could re-live and feel those good times we shared again," Caillat said. "Although the album is full of breakup songs, I felt it was important to share the optimism I still feel about the future and the respect I have for what I've experienced in the past."