Watch: Scotty McCreery and Wife Gabi Document Pregnancy In New Music Video "It Matters To Her"
Scotty McCreery's baby son is almost one month old, and his new album "Same Truck: The Deluxe Album" is out now.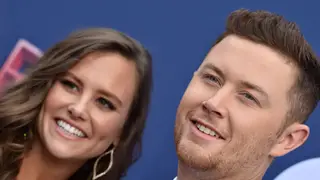 Scotty McCreery is a new dad to his nearly one-month-old son Avery  -- and the owner of a brand new deluxe album, "Same Truck: The Deluxe Album." The album is home to his new song "It Matters To Her," and its video opens with a framed sonogram of the baby boy was released early this week. The clip documents the couple's pregnancy journey, from finding out about their bundle and decorating his nursery to telling the dog he was getting a human sibling.
"This video came out and is everything we wanted it to be in more," McCreery said. "We wanted to document the journey for the whole nine months, and it felt like a good song to do that for. It's about us. Gabi is doing the hard work, and I get to kind of be a cheerleader on the sidelines."
McCreery co-wrote "It Matters To Her" with Rhett Akins and Lee Thomas Miller. He said it's always a fan favorite, especially when he sings the line, "When you shut up and listen to what she has to say." The singer said he sees women punch their partners and mouth, "Yes!"
No one came into the songwrite with the specific idea. McCreery said the lyrics came about through conversation.
"We were talking about how it's the little things that really mattered, that add up in the long run," McCreery said. "I loved how it kind of came about."
"It Matters to Her" is the follow-up to five consecutive No. 1 hits: "Five More Minutes," "This is It," "In Between," "You Time" and "Damn Strait."
"It's fun to look at that video and kind of see where we were and where we are now," McCreery said of the "It Matters To Her" video. "Time flies. It feels like yesterday we were getting married, and now here we are with our first kid, and he's amazing. He's been here for three weeks, and he is already changing. We're like, 'Oh man, don't grow, but grow.' We're in an awesome season right now, and it's really special."
McCreery was on "American Idol" in 2011, but it wasn't until 2016-2017 that his career started to take off with "5 More Minutes." The song became his first No. 1 song, and from there on, his radio success has been stable. He said he could relate to all the struggling musicians and encouraged them to keep believing in themselves.
"It is patience, persistence, and working hard," he said. "It's easy to say now, but I don't think it's supposed to be easy. And just when you think it's almost time to pack it in, that's right when something can happen. Just keep believing, keep working hard and don't get down. It's easy to get down when it doesn't feel like it's working for you and you see everybody else is having success around you, but you just gotta keep believing in yourself and working hard. You never know what can happen."