This Is What It Looks Like When Country Stars Roll Up Their Sleeves to Help
Dierks Bentley, Jake Owen, Miranda Lambert Are Going Above and Beyond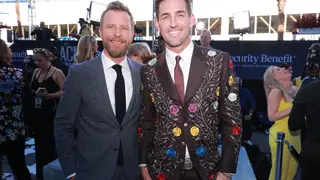 You can post all the prayer-hands and broken-heart emojis you want, but eventually, you need to disconnect from social media and just go do something.
That's what's been happening all over Nashville since the tornado hit on Tuesday morning (March 3) and left miles and miles of destruction in its wake.
Like when Dierks Bentley realized that his drummer Steve Misamore's Mt. Juliet home took a direct hit, he gathered his band and crew to go help Misamore and his wife CarryAnn start the where-do-you-even-start clean-up process. Bentley even added some levity to the heavy situation with a video about bringing the outside in.
And Jake Owen, who first shared on his Instagram story that he was willing to take in pets who needed shelter, then showed up with tools and his twin brother to help the community get rid of all the downed trees. "This is why it's called the Volunteer State," he said.
Other country artists showing up to do some good: