Walker Hayes Talks "Y'All Life" Music Video And Possible Collaboration With Nelly
Walker Hayes will be honored at CMT Artist of The Year on Friday, Oct. 14 at 9P/8c.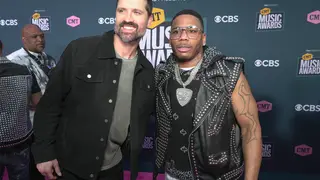 Country music star Walker Hayes is one of five slated to be honored at CMT's Artists of The Year. Ahead of the star-studded affair set to air on Oct. 14, the platinum-selling performer caught up with CMT Hot 20 Countdown host Carissa Culiner to discuss his "Y'all Life" music video and potential collaboration with genre-transcending icon Nelly. 
With football season in full swing, Culiner sparked a conversation around his sport-centric clip for his current radio single, "Y'all Life." The upbeat melody touches upon the small joys of Southern living, including Friday night lights in a small town. The hitmaker worked alongside co-writers Pete Good,  Josh Jenkins, Nelly, and Jason Epperson to cultivate the relatable and imagery-heavy lyrics. 
"We be livin' that y'all life, y'all (Hey) | Rollin' in the South | Where it's all football and Jesus (Jesus) | Barbershop talking like nah |  Shut your mouth, my mama's sweet tea's the sweetest," sings Hayes in the spitfire chorus. "Turn that bass up (Up), shawty, show 'em how (Show 'em how) | Y'all, we raise up (Up) and, y'all, we goin' down, down, baby | Yo' street in my Bronco | I'm a talk to ya real slow (Real slow) | Said where the crawdads crawl |Said living that y'all life, y'all (Y'all life, y'all)." 
Within the action-packed music video released in early July, Hayes takes on the role of a football coach. Dressed in a bright blue letterman jacket and headphones wrapped around his neck, Hayes calls the shots on the field to lead his team to victory. If country fans watch closely, they may recognize familiar faces – his children and wife Laney. 
Hayes told Culiner that if his music career didn't take off, he would have enjoyed becoming a real-life coach. 
"You make a good little football coach," said Culiner. "I know, right? If music didn't work out. I think I might of moseyed into that lane. Maybe a basketball coach or football coach or something. I love working with kids, and I love sports. So, it just makes sense," Hayes pointed out. 
He continued to mention that he's a massive fan of "Friday Night Lights," a popular drama directed by Peter Berg. Hayes explained that the hit television show inspired the "Y'all Life" music video, as the athletes within the clip are donning similar uniforms. 
"I am a huge "Friday Night Lights" fan, and that's what we mimicked in that video," he clarified. "We had a blast. That video, I love it! I love the energy. All my kids, everybody got a spot in it. Laney is in there," added the father of six. 
Within the happy-go-lucky melody, Hayes name drops Nelly's early 2000s smash hit "Country Grammar." Since Nelly was a writer on the piece, Culiner questioned if a collaboration may be in the near future. 
"Maybe so," uttered Hayes. "We're in talks with someone for 'Y'all Life,' and it's actually Ciara. So, maybe we have a version with her on it. She's kind of living with it right now, so I would love to have her on it. Nelly, I am a huge fan." 
Upon releasing his critically acclaimed album, Nelly spoke about a second "Heartland" volume, highlighting the "ladies of country music." Nelly has yet to confirm a release date. Until country music fans receive more original material from the legend, they can catch Hayes on The Glad You're Here Tour and stream his latest release, "The Dog'll Hunt."