Jake Owen Breaks Silence After Unexpected Hospital Visit: "Struggling A Lot Lately"
Jake Owen discusses aging in the music business and how it's stressful to realize he isn't the "young guy in the format" anymore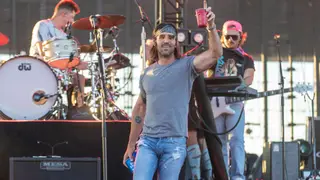 In late October, country music star Jake Owen fell Ill – leaving him to make an unexpected trip to the hospital in the midst of his headlining Up There Down Here Tour.
The initial social media post that sparked concern included a string of snapshots from a high-energy concert with Mackenzie Carpenter and Travis Denning. The star-studded evening followed three consecutive shows in the Midwest. The platinum-selling artist did not confirm what brought him to the hospital and his sudden symptoms in the transparent update, but he shared a piece of valuable advice.
"Full Disclosure. I pretended to feel well all weekend. Tanneryeagerphoto 📸 made me look cool. I ended up back in the 🏥." Owen declared. "I have a lot of people that love and support me. I'm very thankful/ grateful for you. Just because there's a smile on someone's face doesn't mean they aren't goin thru something. What I think about when I see you in the crowd… 'What are they goin through? How can I lift them up?' I can see through the smile sometimes. You guys lift me up. TBH, it was everything I could do to not pass out on stage last night. I got through it though, because I know how lucky I am to do this for a living… I'm not dialing it in. I want to thank my entire crew and team for supporting me on stage and off," he added.
The singer-songwriter declared that he received multiple messages from ticket-holders and pointed out his stubbornness, that frequently places him in sticky circumstances.
"I'm gonna be good y'all…I also appreciate all of the messages I've already received," he said. "Sometimes, as men, we are stubborn…I know for a fact I am. I push it to the limits. I always have. I always will."
Owen stepped away from the spotlight to focus on himself and to maintain his health. After a short hiatus and speaking with medical professionals, the singer-songwriter discovered that his underlining illness was caused by pure exhaustion.
He continued to reflect on his flourishing career and how times have changed since he toured with superstar Kenny Chesney in 2015. Owen now believes he's working on a "timeline."
"I just have been struggling a lot lately with... Well, to be real with you, just part of, as an artist, feeling like, okay, I'm 40 now... 41 actually. I keep telling myself I'm 40… I remember being on tour with Kenny Chesney when he turned 40, and I was like, 'He's 40?!' And I remember thinking that. But he still crushed it all these years. But there's a part of us that as we grow up as artists, you start putting a timeline…," he recalled to the outlet. "I never thought of myself as having a timeline. I never thought of myself as not the young guy in the format. But now I see all these young kids, and I'm like, oh-… I'm not the young guy anymore. So I think a lot of that has made me just... My brain anyways is always going crazy. So I don't sleep."
He said the constant grind has significantly affected his sound and performance capabilities.
"I haven't slept well in a long time. That's what I'd come to find out after going to do the hospital and stuff. That's my only issue is I literally do not sleep," he declared. "Part of not sleeping makes my voice tired. And when the voice is tired, then I'm like, 'Well, how am I going to do this show?' It just compounds."
The vocalist said that being honest with his community was a no-brainer.
"I did share that because I think it's important for people to know that we're all out here as artists. I'm not talking about me, I'm talking about all of us. Because I think it's important to know that everyone's grinding to do this and be out there and support their band and support their families and not be not a good artist to their management and booking agents," he stressed. "You're trying to hold it all on your shoulders."
He made it clear that his situation goes beyond the country music genre, but emphasized that several musicians struggle with the same obstacles.
"It's just an interesting thing. And what does it take? Does it take us dying on the road or somewhere not on the road? Because you've seen it with other artists in all genres," he uttered. "Then it's like, oh, then everybody's like, 'Man, we should have checked in with him more, or we should have applauded them more at the time.' It's sad."
Owen returned to the stage on Thursday, Nov. 3, in West Valley, Utah, and recently wrapped up his critically acclaimed run. The crooner will complete 2022 at The Flamingo Jam in sunny Florida. For 2023 tickets and appearances, visit Jakeowen.net.