Shania Twain Pens A Message To Her Younger Self About Unrealistic Beauty Standards
Shania Twain and pop singer-songwriter Jax are advocating for change.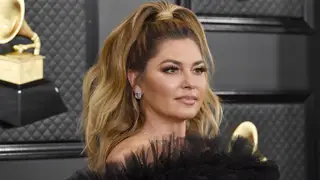 Country music icon Shania Twain is crushing unrealistic beauty standards.
The multi-platinum artist recently (Nov. 21) joined forces with singer-songwriter Jax to address the epidemic affecting youth today. The two created a TikTok highlighting the issue by penning a letter to their younger selves.
Twain and the fast-rising star mouthed the lyrics to "Victoria's Secret," Jax's chart-climbing single. The anthem that spreads a body-positive message, scored the pop singer-songwriter her first entry on the Billboard Hot 100 chart and a personal note from Amy Hauk, the CEO of the billion-dollar lingerie company.
The viral track blames the retail giant for promoting unachievable beauty standards and profiting.
Jax released the clip of them singing the bridge, before exploding into the chorus and sharing their wise words of wisdom.
"Beauty is a patriarchal construct designed to manipulate women into thinking they need to attain the unattainable. Conference rooms of powerful perverts who look a lot like your grandpa will ironically decide the definition of 'sexy' and 'attractive,'" they wrote within the video. "12-year-old, you will take this standard VERY seriously. You will watch the Victoria's Secret Angel Show at a sleepover and cry quietly when your friends fall asleep. As you get older, this marketing scheme will result in your battles with mental illness, health problems, self-hatred, eating disorders, and this is no accident," they added.
The two continued to rattle off other significant reminders they wished they had known growing up.
"This is no accident. This is how they make money. They will use your pain to keep business alive. You will go to war with yourself," they shared. "War makes rich people richer. You were always beautiful. You were never ugly."
In less than 24 hours, the inspiring clip raked in 2M views and 157.8K likes on TikTok alone. While many users requested a duet, others thanked the two for speaking their truth and using their powerful platform to advocate for change.
"Never have I felt more inspired to kick through a door," said a follower. "Let's go girls," replied Write. "Old me still needs to remind myself of these things. Using this to help my daughters grow up differently," added another.
Twain has been feeling more confident than ever before. The trailblazer recently released a topless photo for her single "Waking Up Dreaming" to promote body positivity.
"I styled that photograph myself. It was all about taking off the bra, taking off the shirt, tying the shirt around my waist," Twain explained to The Sun. "This is a statement of being conformable in my own skin and just being really myself."
The hitmaker is gearing up to release her sixth studio album, "Queen of Me," an unapologetic and empowering body of work.
"I want to carry a clear message, particularly as a woman, to always remember my power," she said on Instagram. "I hope the songs are a reminder to you, of that same power inside you."