Craig Morgan Reveals All-Star Collaboration EP With Jelly Roll, Blake Shelton, Lainey Wilson and More
Craig Morgan: "Making this record has been so much fun because I got to get in the studio with some of my friends and also re-create some of my catalog in a way that feels like brand-new music."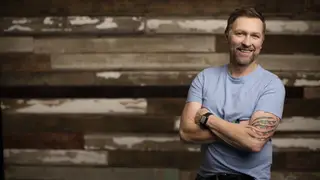 Craig Morgan reenlisted in the army at the end of July, and now he's revealed plans for a collaborative new EP to go with it.
"Enlisted" will be available October 20 and offers duets with some of country music's biggest names, including Trace Adkins, Luke Combs, Gary LeVox, Jelly Roll, Blake Shelton, and Lainey Wilson.
The six-song project boasts new versions of some of Morgan's most recognizable hits along with two new songs.
"Making this record has been so much fun because I got to get in the studio with some of my friends and also re-create some of my catalog in a way that feels like brand-new music," Morgan said in a statement.
Combs joins Morgan on one of the album's two new songs, "Raise The Bar." "That Ain't Gonna Be Me," the second new song that features Adkins, closes the project.
The song explains Morgan's dedication to his convictions.
 "For me, it's about God and family and country," he said. "I am so blessed, and I recognize the blessings of the freedoms we celebrate in this nation."
Additional songs on the album are:
"Almost Home" featuring Jelly Roll
"Redneck Yacht Club" featuring Blake Shelton
"That's What I Love About Sunday" featuring Gary LeVox
"International Harvester" featuring Lainey Wilson
Morgan co-produced the album with Phil O'Donnell.
Jelly Roll said singing "Almost Home" is a full-circle moment for him.
"It's about situations you are sometimes in that you just mentally want to be somewhere else — 'Almost Home' — it's something that I listened to in jail," he said. "Me and my cellmates could really relate to it. When I got out, I spent what little money I had and went to see Craig Morgan at the Grand Ole Opry and cried when he sang it."
Wilson said it's an "absolute honor to be a part of this record."
 "I remember the first time I ever heard 'International Harvester' and the feeling I got knowing that there was music being written that felt like it was made just for me," she said. "I come from a family of farmers, so it's really a full circle moment to be on this track alongside my good friend Craig."
Shelton said: "Craig and I have been friends for many years. I'm a fan of his music and admire him as a human. After all of these years, I still don't understand why he still feels the need to wear that toupee," he joked. "I'm thrilled he asked me to sing with him on 'Redneck Yacht Club.'"
Morgan kicked off his "God, Family, Country Tour 2023," last week.