Garth Brooks Reveals New Las Vegas Residency
Garth Brooks announced he's headed to Caesar's Palace in 2023 and promises to not only push - but shred - the envelope.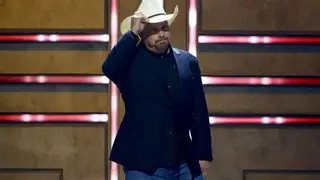 Garth Brooks played his hand on Monday mornings and revealed the long-awaited next step.
Brooks is going to Sin City.
The "Friends In Low Places" singer said Monday that his new show Garth Brooks/Plus ONE would be in residency at The Colosseum at Caesars Palace beginning in 2023.
Tickets for these shows will only be available through registration using Ticketmaster Verified Fan.
"Vegas is the place where anything goes, and The Colosseum at Caesars is the heart of Vegas," said Garth Brooks. "The perfect combination to present a show that will not only push the envelope, it's gonna shred it."
Brooks plans to make every Garth Brooks/Plus ONE show different, with varying band members and occasional special guests. The singer might swap up instrumentation, background singers, or his set list to make each night a unique and memorable experience for the audience in the intimate space.
"Having Garth Brooks, one of the greatest of all time, bring his tremendous talent, and an entirely new show to The Colosseum only adds to the remarkable legacy of Caesars Palace," said Anthony Carano, President and Chief Operating Officer for Caesars Entertainment, in a statement. "We are confident that Garth Brooks/Plus ONE will be an unforgettable live entertainment experience for our guests, and we are honored that he's chosen to join the Caesars Entertainment family."
Brooks partnered with Ticketmaster Verified Fan to ensure fans get access to tickets first. Registration is now open at ticketmaster.com/GarthVegas and will continue until Thursday, November 17, at 8 a.m. PT. The Verified on sale will start Monday, Nov. 21 at 10 a.m. PT for registered fans. Only fans that have received a unique code from Verified Fan can purchase tickets for performances on a first come, first served basis. If demand for tickets from Verified Fans exceeds supply, there will not be a public on sale.   
Fans and Citi cardholders can register now through Thursday, Nov. 17 at 8 a.m. PT to unlock access to tickets and use their Citi card to complete the ticket purchase if verified. The Citi Presale begins Monday, Nov. 21. To register for the Citi Presale powered by Verified Fan, visit www.citientertainment.com and link your Citi card.
"When Garth Brooks dedicated himself to a Las Vegas Residency at The Colosseum at Caesars Palace, fans around the world were all definitely dealt a winning hand," said Bob Roux, President of U.S. Concerts for Live Nation.