CMT Roundup: Dustin Lynch, Colbie Caillat, Levi Hummon and more
See CMT's Roundup new music playlist below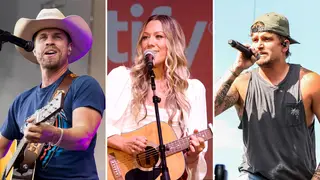 Dustin Lynch, Colbie Caillat and Levi Hummon along with Dan + Shay, Ashley McBryde, Tyler Hubbard and Chris Stapleton are about the artists who have new songs this September weekend.
Hear these and more in CMT's collection of new country songs in The Roundup.
Dustin Lynch, "Killed The Cowboy": "When I'm off the road and working on my farm, I have a lot of inner dialogue," Lynch said. "It's a boxing match inside of me, between living in the moment and enjoying where I am, versus what's the best version of me five, 10, or 20 years down the road. What do I want to be? What do I want life to look like? Who do I want to be around? 'Killed The Cowboy' is that back-and-forth. It's me asking myself, 'Am I okay? Or am I weird for not having found my person yet? And is she even out there?' My hope is that this album finds someone who needs to hear it. I want Killed The Cowboy to embrace the single people of the world and lift them up, to let them know that you don't have to live a 'normal' life to still be happy in your own skin."
Levi Hummon featuring Sam Tinnesz, "Rock Bottom": I grew up listening to country because of my dad, but also was a skater so I had a deep love for everything punk rock," Hummon said. "This is a testament to the music I grew up on, and the sonic influences I've had ever since I was a kid. Honestly, this song and the collaboration has been so much fun and that's what music is all about. When we start drawing genre lines that's when everything becomes a bummer and less experimental and inclusive."
Skip Ewing, "Road Dog": "'Road Dog'  perfectly encapsulates the happiness of a dog driving along a vast open road with their owner. "If you're a dog lover, and most especially if a dog is one of your family members, you'll certainly relate," Ewing shared with All Country News. "Roll the windows down and crank it up!"
Colbie Caillat and Sheryl Crow," I'll Be Here":  "I wrote 'I'll Be Here' with Brett James at my house in California about 13 years ago," said Caillat. "We wanted to write an uplifting song for anyone to sing to whoever they love, including singing it to yourself because that's important too. Over the years, we recorded many variations of it but this one is the original and my favorite and how it was always meant to sound. My heart is so happy and in awe that my lovely friend Sheryl Crow is singing it with me. Her legendary voice and calm tone, so perfectly shares the message of this nurturing song with me. And Jamie Kenney's tasteful production took it all the way home."
A Thousand Horses, "Highway Sound": "As soon as we wrote 'Highway Sound,' it felt like a sign from the universe that we needed to keep going," Michael Hobby said. "There's a lyric in 'Highway Sound' that says 'Brand new start, broke in boots/Old baggage left back home,' which to me really captures the whole spirit of this record.' It's about the freedom of cutting ties with the negativity of the past, and putting your energy into celebrating a new beginning."
Naomi Cooke Johnson, "Livin' Ain't Killed Me Yet,":"This song is a perfect glimpse into the lenses in which I view life," Johnson said. "To make my way through life I have had to take massive chances and risks, some of which have brought me to very scary places where the lessons were intense and the growth was painful. My brushes with danger, and even death, have made me want to live my life how I want to live it and on my terms with a sort of 'is that all you got?' attitude. If there is one thing I'm sure of, it's that this all comes to an end for every single one of us and I want to feel alive while I am alive. I hope you love 'Livin' Ain't Killed Me Yet.'"