Carly Pearce Taps Chris Stapleton For New Single
Carly Pearce says having Chris Stapleton join her on a song feels like a "dream come true."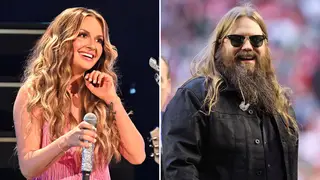 Pearce announced Monday that her new single "We Don't Fight Anymore" will feature Stapleton and be available June 16.
"I've always wanted to write music that makes people feel something – whether that is feeling seen, less alone, happy or even uncomfortable," Pearce said in a statement. "'We Don't Fight Anymore' felt like I was writing one of those stories that, whether or not we want to include it in our social media highlight reel, we've either been there or are living there right now. Having Chris Stapleton join me on this song was a dream come true, and he unlocked an element to the story that I didn't even know it needed."
Pearce wrote the song with frequent collaborator Shane McAnally and Pete Good. McAnally and Pearce produced the song alongside Josh Osborne. "We Don't Fight Anymore" is Pearce's first new music since her much-lauded third album "Written In Stone" and comes on the heels of her fourth No. 1 song, "What He Didn't Do."
The Kentucky native wrote the song with Emily Shackleton and Ashley Gorley, inspired by the end of her marriage to fellow country singer Michael Ray.
"This closes a chapter for me in my life," Pearce said at her No. 1 party. "I thought I was going to die."
Pearce said she and Gorley had already written a song and were packing up when he asked her what Ray did.
"And I said, 'What didn't he do?'" Pearce said. "And he said, 'Sit down.'"
When they finished, Pearce called her mom and read her lyrics because she was convinced it was powerful. She just didn't know how powerful. She and Shackleton played "What He Didn't Do" at Nashville venue the Listening Room Café. Someone took a video, posted it online, and it had thousands of views the next day.
"It became this storm that I don't think any of us even knew," she said. "I've never had a song that caught fire from me playing it one time."
Earlier this year, Pearce told CMT that she wrote the song at a time when she needed to remember she deserved better and that she "needed to be reminded of my worth."
"What I hope now, being on the other side of that and not questioning that anymore, is that whoever's listening that might be in the middle of that battle that I know very well, that they can be reminded that they matter too and that they deserve better," Pearce said.