Ashley McBryde Was Prepared For A 'No' From Her Record Label - She Got 'Lindeville' Instead
Ashley McBryde's concept album "Ashley McBryde Presents: Lindeville" is available now.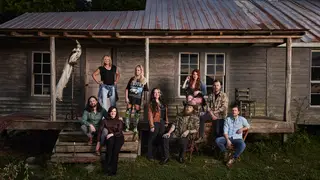 Ashley McBryde and her friends didn't mean to write her third album on those days they spent near the lake during the pandemic. When they holed up in the little house, they knew they wanted to write songs, but they never thought that their creative shenanigans made possible by time off during lockdown would turn into a studio project for her. But they did.
"Ashley McBryde Presents: Lindeville" today – a concept project she cultivated alongside Brothers Osborne, Brandy Clark, Aaron Raitiere, Pillbox Patti (Nicolette Hayford), Caylee Hammack, and Benjy Davis about life in a fictitious small town – is out now. Brothers Osborne's John Osborne produced the album that McBryde said was primarily written in the kitchen of the little lake house.
"We just got up early in the morning because we wanted to," she said. "I don't know how none of us were ever hungover on that trip because there were drinks. Drinks were had, but we just were having so much fun. I think the creative spirit was so thick and running rampant through that, that even though we stayed up late, we still got up early. While we're breaking eggs and putting them in the pan, we're being like, 'What do we think about like the line?' Everybody's just constantly contributing something."
She said the specifics of the trip are "a little blurry," probably from the aforementioned alcohol. But she remembers it was "so much fun."
"We just locked ourselves in there," she said. "And it was like a situation where the kitchen and the dining area were pretty much the same area. At any given time, we're writing a song, and someone's making a sandwich, and Brandy is arranging all the fruit by size and color. Aaron is like sketching and taking Polaroids, and Nicolette is on the keyboard, and one of us is banging on a guitar. It was so much fun."
McBryde and her friends had written songs featuring characters for years. McBryde has a song called "Blackout Betty." Raitiere had "Jesus Jenny." Hayford has a song called "Shut Up Sheila," and she and McBryde penned one called "Living Next to Leroy."  
"That all fits together," McBryde explained. "I was like, 'We should look at all of the characters we've created over the years and maybe give them neighbors. Just like, do it on purpose. Give them neighbors and then give them a place to live. The more we talked about it, I was like, 'Oh my gosh, you guys.'"
McBryde knew immediately she wanted to call the album "Lindeville" after songwriter Dennis Linde. Linde had a hand in country favorites, including "Goodbye Earl," "Bubba Shot the Jukebox" and "John Deere Green."
"They're like, 'That would be so dope,'" she said. "So then we just did it."
She shared the album – which is artfully charming, unapologetically country, deliberate in its storytelling, and reflects the hills and valleys of small-town life -- with her record label Warner Music Nashville. They embraced "Lindeville" immediately, and the singer was stunned.
"Even if we do get a really great batch of songs that seemingly go together, they wind up on a thumb drive," she said. "They don't put thumb drives in the Hall of Fame that I'm aware of. I knew that that was a possibility, that we would write these songs and use some of them for this project or that project, but then most of them would never see the light of day. But I wasn't going to let that happen. There was such an amazing spirit and magic about everything we did that week that I was just really glad to get the green light."
McBryde's greatest hope for the album is that listeners will sit down and play it all the way through. She said each song could stand on its own – but it's best enjoyed with its sonic friends.
"Hopefully, this record will reach folks, and it'll be one where you're driving somewhere, and you're like, How long is this drive? Do we have time to listen to 'Lindeville' all the way through?" she said.