Watch Performances: "Coal Miner's Daughter: A Celebration of the Life And Music of Loretta Lynn" featuring Keith Urban, George Strait, Wynonna and more
CMT is slated to air commercial-free encores of the celebration on Wednesday, Nov. 2 at 8 PM ET and Sunday, Nov. 6 at 11 AM ET. The special will also be available to stream on Paramount+ in early 2023.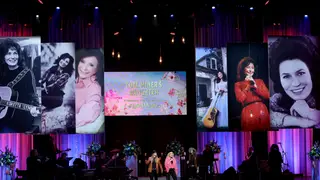 Country music stars and fans flocked to the Grand Ole Opry House Sunday (Oct. 30) evening to pay tribute to the late legend, Loretta Lynn. The trailblazer passed peacefully on Oct. 4 at 90 years old in Hurricane Mill, Tennessee.
The celebration of life presented by CMT, Sandbox Live, and in partnership with Lynn's family – honored the queen of country with the power of music.
Throughout the commercial-free segment hosted by NBC's Today Show co-host and family friend Jenna Bush Hager, notable names in the genre took the hallowed circle to deliver classics from Lynn's timeless catalog. Country icons Wynonna Judd and Larry Strickland commenced the historical affair with a poignant rendition of the Christian hymn "How Great Thou Art" with the Gaither Vocal Band.
With no dry eye in sight and as love consumed the sacred venue – Keith Urban, Tanya Tucker, Darius Rucker, Alan Jackson, Jack White, George Strait, Little Big Town, Margo Price, Brandi Carlile, The Higwomen, Lukas Nelson, and Lynn's granddaughter Emmy Russell performed for devoted fans in the church pews. 
Sister Crystal Gayle, daughter Patsy Lynn, and granddaughter Tayla Lynn reflected on their relationship with Lynn. Meanwhile, Dolly Parton, Reba McEntire, Martina McBride, Sheryl Crow, Taylor Swift, Faith Hill, Tim McGraw, Barbara Mandrell, Kacey Musgraves, Marty Stuart, Miranda Lambert, Hoda Kobt, and "Coal Miner's Daughter" actress Sissy Spacek touched upon Lynn's significant legacy.
"She was a true original, a woman who always sang from her heart, never shied away from challenging the status quo, and blazed the path forward for her fellow female artists," shared CMT. "From her firecracker spirit and signature musicality to her unmistakable country style and unparalleled authenticity."
Encores of the memorial service will air on Wednesday, Nov. 3 at 8p/7c and Sunday, Nov.6 at 11a/10c. The remarkable ceremony will be available to stream on Paramount+ in early 2023.
Wynonna Judd with Gaither Vocal Band and Larry Strickland ­– "How Great Thou Art."
Country powerhouse Wynonna Judd joined forces with Larry Strickland, husband of the late Naomi Judd, and the Gaither Vocal band to kick off the celebration of life. Together they brought the respectful audience to church with a mesmerizing Christian cover of "How Great Thou Art." As Judd displayed her signature Kentucky twang, Strickland effortlessly intertwined his Elvis Presley-like pipes. However, the Gaither Vocal Band placed a gospel-choir spin on the track with their ear-grabbing harmonizes destined to spark a chill. "How Great Thou Art" was originally a poem penned by Carl Boberg, but turned into a world-renowned hymn in 1888. Lynn recorded the classic for her fifth studio album, "Hymns." The collection peaked at No.10 on the Billboard Country Albums chart.
Keith Urban ­­­– "You're Lookin' At Country"
While Keith Urban is best known for his exhilarating guitar pulls and riffs, he exchanged his electric six-string for a banjo. The GRAMMY Award winner performed "You're Lookin' At Country," a honky tonk self-love song penned by Lynn. Before Urban sang a stripped-down version, he shared a hysterical voicemail that showcased Lynn's down-to-earth personality.
As Urban delivered the imagery-driven lyrics, fans sang along to the contagious beat of the 1971 Owen Bradley-produced track. The songstress was touring when she wrote the old-school hit and was inspired by the picturesque meadows and rolling hills she saw while passing through the countryside. "You're Lookin' At Country" graced the top of the Billboard Hot Country Songs chart and claimed the top spot in Canada. The icon performed the fan favorite at the 2014 CMA Awards with country-pop sensation Kacey Musgraves.
Tanya Tucker – "Blue Kentucky Girl"
Outlaw country star Tanya Tucker took the stage to share an emotional version of "Blue Kentucky Girl." The Grand Ole Opry full-set band accompanied the powerhouse. While mourning the loss of her good friend, Tucker managed to get through the melancholy cover.
"I Swear I love you by the moon above you how bright is it shinin' in your world | Some morning when you wake up all alone | Just come on home to your blue Kentucky girl | Just come on home to your blue Kentucky girl," sings Tucker with confidence.
"Blue Kentucky Girl" served as the title track to Lynn's fourth studio album, which was released in 1965. The critically acclaimed record also included "Love's Been Here and Gone," "Night Girl," Two Steps Forward," a jaw-dropping cover of Johnny Cash's "I Still Miss Someone," and more.
Darius Rucker – "Fist City"
Loretta Lynn was never one to beat around the bush, she wore her heart on her sleeve and spoke her truth through music. "Fist City" was inspired by a true story about a woman trying to pursue her husband while she was out touring. The razor-sharp lyrics served as a fair warning to homewreckers.
"If you don't wanna go to Fist City | You'd better detour around my town | 'Cause I'll grab you by the hair of your head | And I'll lift you off of the ground," belts Rucker. "I'm not a-sayin' my baby is a saint, 'cause he ain't | And that he won't cat around with a kitty| I'm here to tell you, gal to lay off of my man | If you don't wanna go to Fist City."
Although "Fist City" has become one of Lynn's most recognizable tracks to date, it was considered controversial in 1968. The song was banded from country radio upon release. Despite the negative backlash, the transparent melody became Lynn's second No.1 single.
Alan Jackson – "Where Her Heart Has Always Been"
While many musicians in attendance pulled from Lynn's repertoire, country legend Alan Jackson stunned with "Where Her Heart Has Always Been." The moving melody lives on his 21-song collection "Where Have You Gone," which was penned for his mother's funeral. Before Jackson shared the tribute track, he compared his mother to Lynn.
"I never told her this, but she reminded me a lot of my momma," said Jackson. "They looked a little alike. Personalities were a lot alike – they were both real outgoing. Tell you exactly what's on their mind, very sweet and genuine. Both came from real hard and humble backgrounds. They both married a man when they were very young. 16 years old or so and stayed with 'em their whole life and loved southern gospel music. When they asked me to sing for Loretta tonight, I just felt like the words felt right."
With traditional country instrumentals backing his old-world sound, Jackson reminded the grieving community that Lynn is now "dancing in the wind, with her true love again." 
George Strait – "Don't Come Home A-Drinkin'(With Lovin' On Your Mind)"
Country music pioneer George Strait honored Lynn with the feminist anthem, "Don't Come Home A-Drinkin' (With Lovin' On Your Mind." In true Loretta Lynn fashion, Strait brought the heat and conveyed the fierce narrative with well-intended anger in his voice. Lynn co-wrote "Don't Come Home A-Drinkin'" alongside her sister Peggy Sue Wright. Together they cultivated a relatable storyline about an intoxicated husband always expecting intercourse. In 1966, the topic of sex was often viewed as "taboo," solidifying that Lynn was a fearless songwriting with high hopes to push the boundaries of country.
Little Big Town – "Let Her Fly"
In honor of heaven gaining a honky tonk angel, platinum-selling group Little Big Town tackled chart-topping track "Let Her Fly." The harmony-infused performance left the country community speechless, as the foursome wowed with their undeniable stage presence and the way they conveyed the thought-provoking lyrics.
"Oh she's an angel, let her fly, let her fly | She's gone home to glory to her home in the sky | When God sees her coming, heaven's choir will smile | And say Oh she's an angel, let her fly, let her fly | Oh she's an angel, let her fly," they sing with poise.
Lynn joined country legend Dolly Parton and Tammy Wynette on "Let Her Fly." The iconic hit was released in 1993 and lives on their 12-track collaboration album, which also features Patsy Cline.
Jack White – "Van Lear Rose"
Genre-transcending instrumentalist Jack White took the limelight to sing "Van Lear Rose," the title track of Lynn's comeback album in 2004. White served as the producer behind the praised record, where he also joined the hitmaker on "Portland Oregon." While plucking at his acoustic guitar, he delivered a show-stopping number that exposed his ear-grabbing grit and the astonishing talents Lynn grew so fond of.
Upon release, the LP peaked at No.2 on the US Billboard Top Country Albums Chart and became one of her most successful crossover collections in her career.
Emmy Russell + Lukas Nelson – "Lay Me Down."
Emmy Russell proved that she is walking in her grandmother's footsteps. The songstress appeared alongside Willie Nelson's son Lukas to sing "Lay Me Down." Lynn and Nelson's 2016 duet lives on her album, "Full Circle." The tearful performance marked Russell's return to the stage in nearly five years. Before the chilling act, Russell reflected on her tight-knit relationship with her "Mema."
"She always stood in the corner and called me on stage. I'd sing a song – one original and one that everybody knew," she recalled. "It's the first time that she's not here to look at me with her proud eyes. It's just special. Thank you for listening," she added.
World-renowned singer-songwriter Margo Price took center stage to stress the significant shift society has experienced since Lynn released her progressive anthem, "The Pill." While sporting a crystal-encrusted gown, she belted the empowering twangy track. The up-tempo anthem serves as an ode to female rights and contraceptive freedom. Lynn co-wrote the career-altering track with T.D.Bayless, Don McHan, and  Lorene Allen.
The controversial message behind the track did not sit well with the industry in 1975. Upon release, a handful of country radio stations banned the popular song, to prevent it from climbing the charts.
Brandi Carlile – "She's Got You"
Critically acclaimed singer-songwriter Brandi Carlile paid tribute to the queen with a soaring cover of "She's Got You." The reflective melody was written by Hank Cochran and was initially recorded by country phenomenon Patsy Cline. It wasn't until 1977 when Lynn released a buzz-worthy cover on her tribute LP, "I Remember Patsy." Not only did Carlile transport listeners to cloud nine with her crystal clear vocals and soul-touching delivery, but with her wise words.
"She's my hero's hero. That's why I love what Martina [McBride] came out here and said so much because I can feel the way Loretta treated her girlfriends, by the way, they treated me," Carlile pointed out. "Wynonna Judd, Tanya Tucker, and Martina. I promise you right now, Loretta Lynn, to pay that forward for as long as they let me do this job. To any younger girl that wants to come out here and take this big beautiful risk and do this job."
The Highwomen – "Coal Miner's Daughter"
The Highwomen and special guest Brittney Spencer concluded the celebration of life with her 1970 autobiographical song "Coal Miner's Daughter." Lynn established a name for herself within the industry long before the smash hit, but it wasn't until fans heard "Coal Miner's Daughter" that they understood her story. The tack touches upon her teen years, humbling beginnings in a poor Kentucky family, and rise to fame. It wasn't long until the iconic song was transformed into a musical directed by Michael Apted.
The Highwomen managed to create a sense of magic within the Grand Ole Opry, as devoted fans and loved ones expressed their endless love and support by uniting in song. The ringing applause throughout the theater proved that Lynn's legacy would live on for decades to come.