Bailey Zimmerman Talks New Album "Religiously," Why He Cried Every Day and His Basic Trouble With Women
Bailey Zimmerman said he's "always attracted to something that I shouldn't be getting into."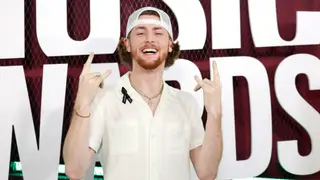 Bailey Zimmerman has logged many firsts since he went viral on social media and broke into country music. He's now nearing 2 billion global streams, earned a six-week No. 1 single with "Rock And A Hard Place" and just released his debut album, "Religiously."
Zimmerman co-wrote 11 of the 16 songs on the album, including its title track and current single. He told "Today's Country Radio with Kelleigh Bannen" that it's a sad album, but thankfully, he isn't in that headspace anymore.
"It's back when I was really sad every day and crying every day," he explained. "That's why there's tears on the album cover. Because honestly, when I went through what I went through, I was crying a bunch because I couldn't believe how much love I gave, and then that happened in return. And that may not be the thing to say, but I did. I remember crying a lot. That's crazy how somebody you thought really loved you can turn like that and do something so whack."
Zimmerman said he doesn't talk about the breakup on the album because he doesn't see the point. But everything song included he included on the album represents something he lived.
"The feelings and all the songs, I've been there before, and I will never sing about something I don't know," he said. "If I don't know that feeling or that message of the song, then I'm not going to sing it. So that's why I try to say that at every show is like, 'For those out there that are crying and letting go tonight and really sad right now, just know that I've been there. I'm not there now; I'm really happy. But I've been where you're at, and there's a reason I'm singing the songs I'm singing is because I've been through every single thing that you're going through.'"
His song "You Don't Want That Smoke" just landed in his text messages one day from an unknown number. He clicked on it and was instantly drawn to the voice, which turned out to be Tucker Beathard. Zimmerman said he immediately thought it was a smash.
Lyrics include: But you don't want that smoke| The kind that's in her past| She'll love you till the filter|And leave you in the ash
The song might be reminiscent of what Zimmerman said is his basic trouble with women. He likes the bad girls.
"I'm always attracted to something that I shouldn't be getting into," he said. "And that's always been my thing. I don't know why, it's just every time I see trouble I'm just like, 'Yep, that looks like a really, really fun, that looks like she's going to be a lot of fun, and she's going to give me a wild night. We're going to party. It's going to be great.' And that's what I've always been drawn to."
While he might keep making the same mistake with women, Zimmerman said he has learned a thing or two when it comes to country radio – mostly that he's blessed to have his current success because it's rare.
"Honestly, the biggest lesson is, this doesn't happen on radio," he explained. "And [my team has] explained that to me, 'Hey dude, don't expect every song to really climb like that and do this…' And I don't mean that in any way bad; it's just like they've really taught me that, and (that's) what's helped me. There's no ego; there's no chip on my shoulder, because I know this is really unprecedented and this doesn't happen to everybody, and just to be grateful. So it's really taught me to say, 'Hey, whatever happens in the future, just be happy that you're here.'"